Performer Spotlight: Rachel York
April 7, 2017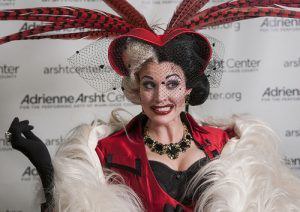 Rachel York has a voice that is warm an inviting, and comes alive with great cheeriness even on a particularly miserable day in New York City. The award-winning actress may have several Broadway shows and Hollywood movies under her belt, but she still has to face the eternal annoyance of city traffic (Stars—They're Just Like Us!)  "It literally is a rat race [in New York]," she says.   "They came up with that term, I think, because you constantly feel like you're on one of those little wheels in a cage."
York, a Florida native, is excited to be coming back to where she grew up, "Because it's my home…anytime I'm in Florida, I just relax." Lately, York has been traveling around the country performing with symphonies and solo concerts, which allow her more flexibility, and require less time away from her daughter.
This weekend, York is bringing her daughter along with her, taking advantage of performing in such a sunny spot. "Many times we do travel to nice places like Florida…it can be sort of a work/vacation." But even with the promise of a few days at the beach, performing takes a tremendous amount of work. When asked about the challenges of performing in concerts and fully staged productions, York explains "they both demand a tremendous amount of professionalism. When you're doing a Broadway show you have to be an athlete…you have to take care of your instrument, your voice, [and] you have to take care of your energy, because you're using a lot of energy onstage every night."
Of course, the rehearsal period for concerts are shorter, usually only one or two rehearsals with the orchestra before the show. But smaller rehearsal times can also have their drawbacks. "If you don't have a dress rehearsal…when you walk out onstage with the sound and the lights and the orchestra, it's sort of all at once… [and] if you're not used to the venue or the lighting or the sound system, it can be jarring." Fortunately, York and her fellow performers, Doug LaBrecque and Melissa Errico have worked with Gulf Coast Symphony before in the Barbara B. Mann Performing Arts Hall. While the shock of so many new elements with the addition of an audience can be "a lot", York is an absolute pro.  She has a chameleon voice to sing a wide range of tunes. "Typically most of the music you (kind of) are familiar with" she laughs, "We'll be singing songs we love to sing."
Another advantage of concert performances is the ability to see the artists as different characters, as well as themselves. "You'll get to know our personalities and our chemistry onstage. We've all worked together over the years many times…we're even having a little reunion by doing this concert together!" York will sing selections from Wicked, Hello Dolly, Funny Girl, and even Frozen. But her favorite song isn't from a musical, and will be a sweet treat for audience members. "I have a very different take on Dolly Parton's song 'I Will Always Love You'".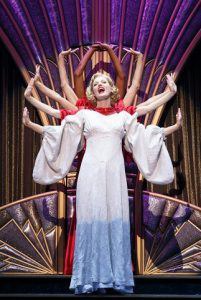 York has originated several roles on Broadway.  York says "It's a joy doing an original show, because you get to originate the part yourself, and I typically really like that type of work…it's like detective work, really trying to find that character and hone in on who they really are."
York's acting has graced more than just the Broadway stage, appearing in TV shows, movies, and even voicing the character Circe in the animated series Justice League Unlimited. She also played the pioneering female comedian Lucille Ball in the 2003 bio flick Lucy. In 2009 she originated the role of Cruella De Vil for The 101 Dalmatians Musical. "I watched Cruella as a child, and I used to imitate Cruella to my friends and family when I was a kid, and I hadn't watched the movie in years. My childhood impression of her…was very specific. And I formulated this character around that memory, and when I watched the movie…I liked what I added to the character that wasn't in the original cartoon. My childhood mind took all the elements that it liked about the character and then added its own."
Originating a role can be tough work, but stepping into a classic character like Reno Sweeney in Anything Goes isn't any less of an endeavor. "When I'm doing a classic revival, I'm still putting my stamp on the role. It's my interpretation of the character…   I do believe you attract that character, that role you are going to play when you most need to express that side of yourself." As an artist, life's experiences are often the best teacher, and York explains "acting is my own form of education, I grow and learn from the characters that I play."
York will continue to work with symphonies all over the country, including upcoming shows in Salt Lake City, Houston, and Pasadena. She also has a few projects in the works, including the musical Little Dancer by Ahrens and Flaherty, choreographed by Susan Stroman, and Head Over Heels, based on the music of the Go-Go's. You can also catcher her in an episode of The Mick, May 2 at 8:30pm EST on Fox.