Back to Where He Once Belonged
August 7, 2020
The Drums of GCS's Gary Colston Fell Silent, Only to Re-Awaken 35 Years Later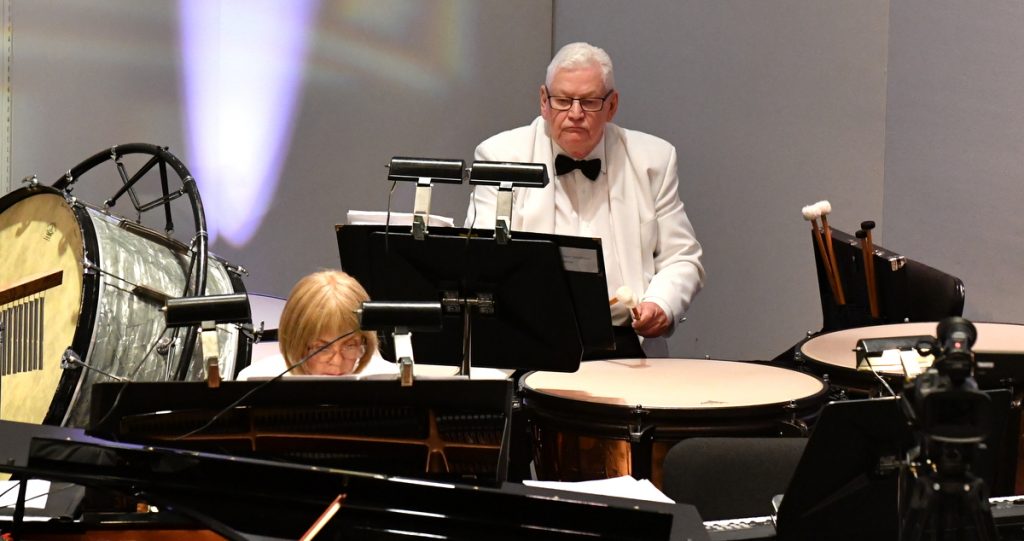 Many of us pass through life leaving behind parts of our childhood, only to find them again decades later. That's just what the Gulf Coast Symphony's timpanist Gary Colston discovered, and he's not looked back since.
Gary was born in Logan, West Virginia, the area home to the legendary Hatfields and the McCoys.
He started playing percussion in junior high school, following in the footsteps of his older brother Ken. As such, he got into music at a relatively older age of 13 or 14.
Besides playing drums and timpani in school, Gary for a while took up the bass baritone. "I played baritone to improve my tonality, and it was a tool to improve on the timpani." And with some friends he formed a group singing pop tunes during his high-school years.
Gut Gary says popular music has never been his scene, except for that played by a more-distant generation of longhairs. "I can remember in the early 1960s, everyone was listening to the Beatles, but I was listening to Beethoven."
After high school, Gary went straight into the Air Force, where he was assigned to play in the drum and bugle corps out of San Antonio, Texas. "That's the only thing I did in the Air Force. I never left the state of Texas during my three years on active duty."
So, what does a military drum and bugle corps do? "In our unit we had 32 instruments — four snare and two bass drums, while the rest were brass instruments." Gary played the snare. His unit performed at military parades, concerts and retirements, among other events. "We played at a lot of barbecues, and there was a lot of standing around on airfields in 130-degree heat waiting for some general to arrive." 
Mr. Colston Goes to Washington
After leaving the Air Force, Gary put down the drum sticks and in 1963 moved to the nation's capital. "When I was in high school and even when I played in the Air Force, it was an avocation. I didn't want to make a career of it."
So in D.C., he worked at a Connecticut Ave. record shop serving the area's rich and famous. "We had a very exclusive clientele. I met Victor Borge and Roger Williams (the pianist), as well as other notables who came into the shop."
Gary recalls the time when three people were thumbing through albums, raising the suspicions of the shop owner, who asked Gary to keep an eye on them. "They picked out a big stack of records, and when they got to the checkout, it turned out they were Peter, Paul and Mary."
And there was the time when a customer sought an out-of-print Brahms recording. "I got a little impatient and said something to the effect that 'if you want it, you're going to have to pay to have it recorded.'" The woman eventually selected a different record. "That's when I found out that she was the wife of (former) Secretary of State Dean Acheson. Boy, that was embarrassing."
Although Gary had lost the urge to play percussion after he left the Air Force, he still loved to listen to music. "The thing I liked about Washington, even though I wasn't playing at the time, was that there were always musical events in the city. I got to hear a lot of wonderful music in Washington."
After five years selling records, Gary got a job working as a bookkeeper in a Washington bank, eventually landing at U.S. engineering giant Bechtel's liquefied natural gas plant in Maryland. By then it was the early 1970s.
The Sheik of Araby
While at Bechtel, Gary was posted to Algeria, bookkeeping for a subsidiary building agricultural seed-cleaning stations for that country. He was based in Belida, about 50 miles south of the capital Algiers.
The 1970s weren't welcoming for Americans in Algeria, which was a socialist country allied with the then-Soviet Union in a region of the world that generally was hostile to the West. Back to Gary: "I had to get my visa through the Swiss embassy in Washington because there were no diplomatic relations between our country and Algeria."
Algeria had been a colony harshly ruled by the French until it won a four-year war for independence in 1962. "They probably thought of us even less so than they did of the French," Gary says.
Life for Gary in Algeria was culturally alien and very restrictive. "You had to be very careful of what you said, where you said it and how you said it. There were a lot of secret police around, and we pretty much stayed among ourselves."
Still, Gary encountered few problems during his 1½ years in Algeria, and he got on with the locals reasonably well despite his jerry-rigged French. "If you tried to speak English to anyone you were dealing with in the government, most often they would ignore you. But if you tried to speak to them in French, regardless of how poorly, they would acknowledge you and then speak English."
Gary returned to Maryland to work at a Bechtel nuclear power plant, where he stayed until 1980. And then his career took another sharp turn.
"I had gotten interested in addiction issues, and there was an opportunity to go to work in the county addiction-treatment program. I started out as a counselor and became an assistant director and then program director." Gary worked for the Calvert County addiction-treatment program for 10 years.
Meanwhile, it had been around 30 years since he played drums for the Air Force. "I was still an avid listener, but there were no opportunities for community orchestras or the things of that nature where I lived."
Nearing his 50s, Gary then moved to Southwest Florida. You can guess how that came about: "I had come to the west coast of Florida on vacation and fell in love with the weather."
So in 1989, Gary resettled in Fort Myers. He found work as assistant to the administrator of a home-health agency in Port Charlotte and five years later purchased a flower shop in Fort Myers with his partner. He retired 13 years later.
Cherchez la Musique
And now for the music part: Gary one day had gone to a concert by the Lee Country Concert Band, which sought new members. He took the plunge and joined the band's percussion section. He later also joined the Lehigh Acres Concert Band and started taking percussion-performance courses at the then-Edison College.
In the meantime, Gary was hired as a per-concert paid musician with the Charlotte Symphony, playing snare drum, bass drum and the symbols. He later graduated to the timpani, which he played there for another five years.
And more importantly: In 2002, while still playing in Port Charlotte, Gary contacted the Gulf Coast Symphony on the advice of a musician friend. He auditioned and has been the orchestra's timpanist ever since.
Gary owns many percussion instruments. That's because one never knows when a piece of music will require several. "We did a concert last year for which I had to take along 17 different items in addition to the timpani."
Now, the GCS uses multiple percussionists in concerts. But Gary at times has had to perform on more instruments than just the timpani, which usually demands a full-time player. "There's a ballet in the percussion section because everyone's moving from one instrument to another." Gary says. "It's a choreography you have to work out for yourself and the other players."
These days, the COVID-19 pandemic has made playing and practicing timpani difficult for Gary, mainly because his drums are stored and inaccessible at the GCS's temporarily shuttered office. "Without the drums, the only thing I can usually do at home is practice my movements. I pretend to go from this drum to that drum and practice with my hands."
Oh well. Dance on, Gary, dance on.
By Art Mooradian