And the Twain Shall Meet
September 13, 2020
Gulf Coast Symphony Horn Player Susan Oliver Shows an Attuned Ear and a Keen Eye
Retirement is what you make it. Many of us see it as a foreboding beginning of the end. Others, such as Gulf Coast Symphony French horn player Susan Oliver, use retirement to capitalize on opportunities they did not take before.
Susan was born in the U.S. military hospital in Izmir, Turkey, a land where she lived with her mom and Air Force dad for 2 ½ years before moving to Columbus in what would become her home state of Ohio.
From 4th to 10th grades, however, she lived in the Southeast Texas town of Vidor, after her mother had remarried. "It's a very small town that no one's ever heard of, although a lot of famous musicians came from there," Susan says, mentioning singers and songwriters George Jones, Don Rollins, Tracy Byrd, Billie Joe Spears and Clay Walker, to name a few.
"Vidor is about 25 miles from the Texas-Louisiana border. My childhood was spent playing in swamps and sandpits and around pipelines. It's the area in Texas that keeps getting hit by hurricanes and flooding."
Susan comes from a musical family. "Music was no one's career. But there were a lot of people in the family who played instruments. My mother is a singer with a beautiful voice and played the horn. My grandfather was one of those people who could just pick up any instrument and play it well. My grandmother played the violin, my aunt sang and my uncle played the saxophone." And country singer Little Jimmy Dickens is a distant relation.  
Susan started out playing piano when she was eight or nine years old. She studied piano until she entered junior high school, where students could learn band instruments. She had fancied the saxophone, not the French horn her mother had played.
"I tried every instrument they had but couldn't get a sound out. All that was left was the horn. Of course, I got out a long solid tone. So, the French horn was going to be my instrument. I guess it chose me."
That choice led her to the city's high-school marching band. Although Vidor comprised just 14,000 people, the high school boasted a nearly 300-member band under the demanding direction of one Charles R. Smith. "He instilled in us a lot of discipline and pride in our accomplishments. We were all scared of him. We even practiced during thunderstorms and floods." Susan was one of 24 French horns in the group.
The marching band was Vidor High School's centerpiece, Susan says. "The football team wasn't very good. So, people went to the games mainly to see the band because it was phenomenal. If we lost the game, you didn't care, because you got to see the band."
Girl From Ohio
Susan played two years at Vidor High before the family headed back to Ohio, this time to Chillicothe, a town not far from Columbus. She promptly joined the school band, though that experience was somewhat different from that in Texas. "I went from a program in Vidor where I just blended into a mass of French horns to one in Ohio that had just three horn players. When I got there, they immediately made me the first chair."
Chillicothe High School also had an orchestra, something Vidor lacked. "I was so excited to play in an orchestra. It was different from the band, of course. For example, all of a sudden I was tuning to an A instead of Bb. By the time I finished high school, I was an orchestra girl all the way." 
Her love of orchestral playing drove Susan to advance her abilities, earning her first chair in the Columbus regional high school orchestra and a spot in Ohio's all-state orchestra.
As life would have it, Susan backed off the French horn when she entered Ohio State University, where she studied mathematics. "When I was in my senior year of high school, I had talked with a member of the Columbus Symphony about playing horn professionally. He said being a female brass player was going to be difficult. That's the way things were at the time. Auditions then weren't behind a curtain. And I remember him saying that 'if you love something else, do that and make music a hobby.' That made sense to me at the time."
That chat put the kibosh on a career for Susan as a professional musician. "At that point, I just distanced myself from music. I played some horn in the bathroom of my dorm, which had great acoustics. I would just go there, play a bit and then I'd be done for a while. Eventually, though, I didn't play at all until decades later when I retired."
Her plan had been to graduate college, get a day job and resume the French horn as a hobby. "It turned out that I just didn't have the time. I got busy with a career and eventually had to bring up two children as a single parent for several years."
Susan left Ohio State with a B.S. degree in Mathematics and worked in financial services doing analytics for Discover Card when it first got rolled out in 1985. "They had an operations center in Columbus, and I was employee number 112."
She stayed with Discover for 20 years, ending up at the Chicago office where she advanced to become head of the merchant services side of the company's analytics and e-commerce business, an emerging operational area at the time.
Susan left Discover in 2006. In her remaining years in Chi-Town, she worked some other jobs before moving back to Ohio. While in Chicago, however, she met and married her husband, Missourian Rick Robison, an accountant who also happens to be the Gulf Coast Symphony's Treasurer. Incidentally, Susan is on the orchestra's board of directors.
By 2011, Susan and Rick had enough of the Windy City and moved to Columbus, where Susan quickly found work doing credit-card and debit-card analytics for Huntington Bank. "That was great. I was the only person doing that work, and there were no management distractions." 
Winter of Discontent
And here it comes. After four years in Columbus, Susan and Rick moved to Cape Coral. "As every year went by up north, Rick got more and more fed up with the snow. In 2014, it snowed several inches at the beginning of November. He was so unhappy." (Yeah Susan, blame the husband).
Well, Susan and Rick already had long-range plans eventually to retire on the west coast of Florida, after having visited often with her father and uncle in Fort Myers. So they knew and liked this area, especially the climate. Then on the spur of the moment in the midst of his 2014 winter angst, Susan dispatched Rick southward with a mission. "I told him to go to Cape Coral and buy a house that weekend. And he did! Cape Coral was the perfect fit for us."
Now to the musical reprise. After moving to Cape Coral, Susan one day was invited to attend a Lee County Band concert a few days away. "I thought: 'Wait a second. Why am I not playing the horn? I'm retired. I don't have much to do. I still remember how to play.'" She then got in touch with the Lee County band and played that very concert. "I went to rehearsal on Thursday and played the concert on Sunday. It was that fast."
Two months later, Susan heard about the Gulf Coast Symphony. Her plan was to practice for about a year to get her lip in orchestra shape, to work on the repertoire and then audition for the orchestra. Now, remember about life and making plans?
Well, Southwest Florida, maybe unlike Texas, isn't teaming with French horn players. So when Susan got in touch with GCS Music Director Dr. Andrew Kurtz, he asked her to join the orchestra immediately to fill a void left by a departing player. Two quick rehearsals and a Taste of the Cape concert later that same week, Susan was in the orchestra to stay.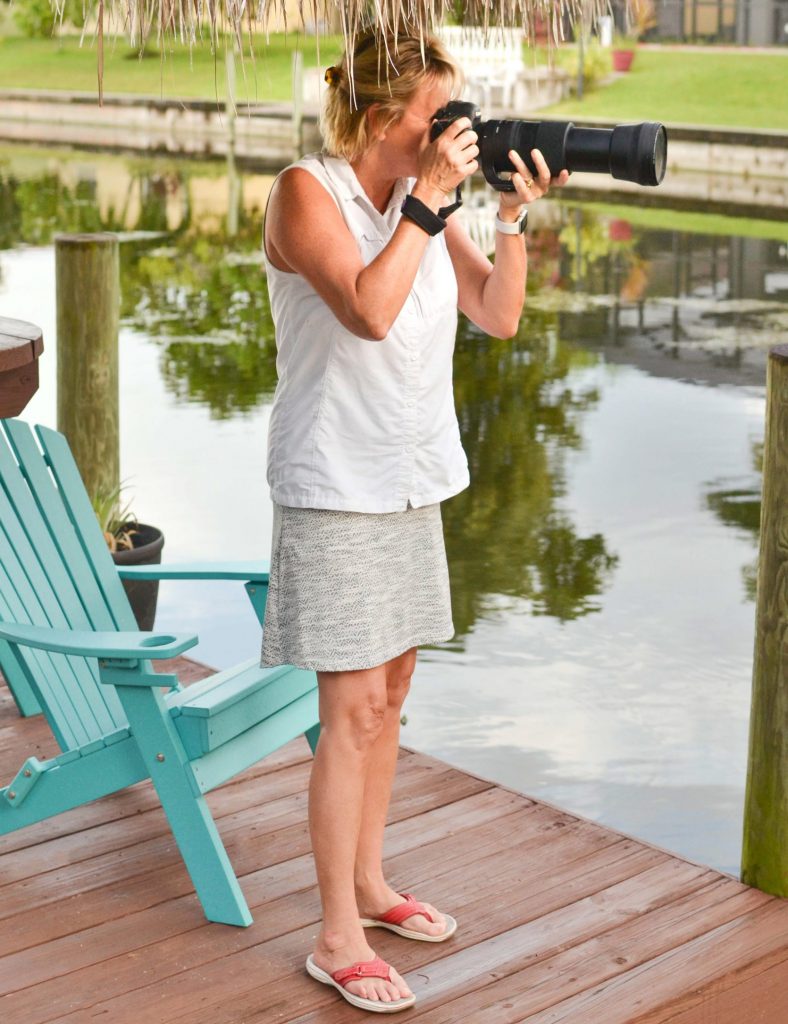 "I feel so fortunate to return to doing something I love so much. Playing with the GCS fills a void I created with my long absence from music. We play lovely music and get to collaborate with great outside artists."
Every Picture Tells a Story
Ah, but Susan's story doesn't end there. While in Chicago, Susan bought a digital SLR camera — a photography aficionado's plaything. Up to that point, she took pictures now and then, here and there. But she used that new camera sparingly, as she was still working and bringing up the children.
Then 10 years ago, with the kids off at college, Susan found the time and a mentor to help her develop as a photographer. "There was someone at work who was a photographer. He gave me so much help. I would email him pictures, and he would give his opinion of them and offer advice." He and another friend were key photographic influences, Susan says. "By the time we left Ohio, I was starting to advance as a photographer, and when we got to the Cape, it really took off."
Today, Susan specializes in wildlife photography. "I love animals and I love nature. Down here, we have all this wildlife, even in our backyard. We have egrets, herons, limpkins, turtles and otters. We just take my camera down to our dock in the evening and wait for something to happen. Lots of times it does."
Susan has a website on which she displays her photos. Her work appeared in a multi-media show on animals at the Alliance for the Arts in Fort Myers a couple years ago. And she says she will be the November featured artist at the Harbour View Gallery in Cape Coral. Pictures of Susan's backyard wildlife were published in the May 3 edition of the Fort Myers News Press newspaper, as well.
Susan's website is https://www.susanoliverphotography.com. Her show in November will be at the Harbour View Gallery, 5789 Cape Harbour Dr., Suite 104, Cape Coral, FL 33914. https://harbourviewgallery.com
By Art Mooradian