Getting Safely on Bass
October 23, 2020
Bass-Baritone Tyler Putnam and mezzo soprano Sarah Nordin are the featured guest artists in the Gulf Coast Symphony's return to the stage at Barbara B. Mann Performing Arts Hall on October 24. The husband-wife team will sing a selection of beloved tunes from Broadway.
Here's Tyler's story.
Tyler Putnam grew up on Chebeague Island, Me., into a musical family. His father was one of that state's fabled lobstermen.
The town of Chebeague Island (pronounced she-big) sits in Casco Bay in what originally was a fishing ground for the Abenaki native Americans. It lies 10 miles northeast of Portland, and according to Wikipedia, had an estimated population of 415 people in 2019.
"My dad and mom each had a guitar under the bed, and they liked to sing folk music. I started singing in grade school and played clarinet for about three years. From there, I developed into doing music and theatre."
Tyler sang in school and community choirs and choruses through his school years, though he lacked formal training. "I didn't have a voice teacher until college, though I did meet with a few people while I was in high school, just to see what it would be like to work with a voice teacher."
So, organized singing for him was more or less showing up and having a go at it. "I don't remember practicing when I was in high school, though there was a select group of madrigal singers I was with, and that required some practicing. But my real focus was the drama club because it would do a musical every fall."
His first major musical role came in middle school. "When I was in the eighth grade, I got to play Friedrich von Trapp in the high school's production of the Sound of Music. That was my start. And every year after that, I was in another show. I got to play Curly in Oklahoma! and Harold Hill in The Music Man."
Tyler pursued his higher education at Dartmouth College. "I had this choice between applying to an acting conservatory or a liberal-arts college. So, with a lot of influence from my parents, I decided to go the liberal-arts route." Tyler majored in Music and Theater, graduating with a Bachelor of Arts degree.
His first significant mentor Louis Burkot, director of the Dartmouth glee club and founder of Opera North, in Lebanon, N.H., where Tyler spent two summers, while still a student, in the opera's chorus.
And then there was Carol Dunne, who taught acting and acting for musicals and happened to be artistic director at a nearby summer-stock musical theater company called the New London Barn Playhouse in New London, N.H. "She very quickly tapped me to join the Barn's internship program. There was a mix of interns and equity actors in the company." That was 2009, the summer after graduation in which Tyler jumped for the first time into a professional work environment.
After the post-graduate summer as a "Barnie" in New London, Tyler decided to try his luck in New York City, the Mecca for young artists of all ilks. "I moved to New York City in the fall of 2009, and I have been here for about 11 years now."
New York, New York
Tyler, who lives in the Bronx, arrived in Gotham without a job and found a room with a couple in the city. He lived off his savings and some support from his family, which helped him get through that first year in the city. He anchored his income by working in the catering industry. His life was mostly learning how to live on his own and get his feet on the ground.
Then it happened. "I landed my first professional job the next summer as Macheath in The Three Penny Opera at the Princeton Festival."
While in New York, Tyler was getting instruction from William Hicks, a prominent music coach. "He is an excellent pianist, with excellent ears and he is a smart guy." Still, Tyler didn't have a dedicated voice teacher at that time. But Hicks eventually steered him toward Randolph Mickelson, a well known musicologist, teacher and impresario, who took Tyler on as a voice student. "Randy was a big part of my life for the next four or five years."
There is a difference between an artistic coach and a voice teacher. Tyler says William Hicks would talk about style, language and diction, or musical phrasing and presentation. "I went to him with songs I'd like to sing, like 'Joey Joey Joey' from The Most Happy Fella, and he would work with me on that level."
A voice teacher, on the other hand, works on the nuts and bolts of producing sounds and turning the voice into a refined musical instrument. "I started taking lessons with Randy three times a week. He was very old school. We'd do a half hour of singing, then he'd talk to me for a long time, then another half hour of singing, then we'd listen to records, then another half hour of singing and so on. Those lessons would last two or three hours."
For the next three years, Tyler lived a life of voice training and catering work, a staple of young performing artists in the Big Apple. "I learned what I hadn't been taught in school about how to sing. I'm talking about learning one note at a time, two notes at a time or three notes just on the sound 'ah.' Then we'd do 'eh,' and then 'oh. Then we'd do patterns on those sounds. It was building the voice from the ground up."
After working with Mickelson, Tyler was offered a job by his old Dartmouth choir director Burkot at Opera North. "I was in the chorus there as a student and now I was going in as a young artist." 
So-called young artists programs often last a summer, but can take longer. They are paid residencies for operatic singers transitioning from academic training to a professional career. "Louis Burkot helped me greatly because young artists usually just understudy major roles and sing in the chorus. He offered me proper roles."
While at Opera North that summer. Tyler got to play Luther Billis in South Pacific, one of his favorites, and the bass role of Raimondo in Donizetti's opera Lucia di Lammermoor. "The summer of 2013 was really wonderful at Opera North. It got my career rolling."
Consequently, Tyler auditioned that fall for other young artist programs and got accepted by the Sarasota Opera and later by the celebrated Santa Fe Opera. He spent the winters of 2014 and 2015 in Sarasota and those summers in Santa Fe.
The Sarasota Opera's director Victor DeRenzi was another major influence on Tyler's artistic development. "I have never met anyone more passionate about opera than Victor DeRenzi is. A lot of his convictions lined up well with Randy Mickelson, my old voice teacher in New York. He taught me a lot about Italian poetry and Verdi in particular."
Tyler's training continued apace in the Great Southwest. "At Santa Fe, every person they brought in to work with us was an incredible artist, so it's hard to single out one. It's simply the best opera company I have ever been a part of."
This Hybrid Isn't a Prius
Now one might ask Tyler: Why become a bass-baritone. "From the early days, I knew I wasn't going to become a tenor. So I studied as a baritone through high school and college."
There's a big difference between a baritone and a bass in opera. The baritone has to hit some higher-pitched notes than the bass. And a voice teacher with whom Tyler had taken a one-off lesson while he was in high school told him he wasn't a baritone, but rather a bass, a truth Tyler denied for years.
So what's a bass-baritone? "I'm calling myself a bass-baritone, which is a catchall. Okay. I don't have the range to sing a Verdi baritone role. Some of those passages go just too high. But a lot of classic broadway repertoire is said to be written for baritone but has low-enough notes to be a piece of cake for me. Anything Mozart wrote for bass or baritone suits me, and any roles Verdi wrote for bass, I can nail. There are roles on the edge I might like to try, like Eskamillo in Carmen. Boy that's really hard work for me. It's really high. But I'm thinking about it."
Tyler is keen on singing Italian opera, especially Mozart and Verdi. "My favorite roles right now are Figaro and Don Giovanni. A role to look forward to is King Philip in Verdi's Don Carlo."
It wasn't until Tyler started working with Randy Mickelson that he accepted that reality. "After a while Randy insisted: 'you're a bass.' Then the penny dropped. "I thought, ah, that explains why I don't have a high G and why the high notes are hard to hit." So overnight, Tyler went from being a baritone with shaky high notes to becoming a bass with great high notes – for a bass.
Back to the timeline. It's 2016, and Tyler is in his mid 20s, and he just finished his stint in Santa Fe. He then married mezzo-soprano Sarah Nordin, whom he had met in 2013 at Opera North. The couple then started picking up roles with opera companies around the country, such as the Salt Marsh Opera in Stonington, CT, the Geneva Light Opera in Upstate New York and some in Florida, where Sarah grew up and had many contacts. The two have sung variously in operas in Tampa and Orlando, not to mention with our Gulf Coast Symphony here in Fort Myers.
"Generally, we set up our lives to be singing in Florida in the winter, Connecticut in the fall and Upstate New York in the summer. That's what we have done in recent years, until the coronavirus," Tyler says.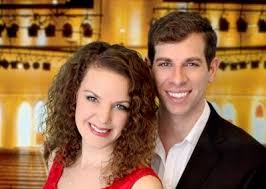 The coming performance on October 24 with the Gulf Coast Symphony at the Barbara B. Mann Performing Arts Hall will be Tyler's first stage appearance since March, when an Opera Tampa production of The Pirates of Penzance in which he was featured closed just after final rehearsal on Friday the 13th.
In the meantime, while COVID has brought the theatre and musical arts to a near standstill, Tyler and Sarah have gotten by with performing small-scale, private "backyard" concerts in Florida and New York. "People are really starved for entertainment right now."
'Guten Morgen Sonnenschein'
Tyler and Sarah's longer-term plans have them going a bit further afield. "Sarah and I have our eyes set on Germany." Apparently working in Germany is part of many an opera singer's right of passage. Toward that end, the couple are learning German remotely twice a week with a teacher in Bremen, Germany. The teacher Mariella Baier is also a singer and is a German language coach for the San Francisco Opera. Tyler says. "Basically, the only thing keeping us from Germany is speaking German."
So what is the attraction of Germany? "A lot of American opera singers spend some time there because the Germans offer state-sponsored fixed positions in which you work at one theater for a year or two. You put up a lot of roles on the resume, build a completely different life experience and then come back to the States with all that under your belt. It's like a normal job with normal benefits." That also should suit the couple's two-year-old daughter Pauline.
In Germany, the couple would sing Wagner, as well as German operettas. They would also work in productions commonly done in Germany but rarely in America, Tyler says. "I do want to have an international career as opposed to just an American career. And we want to do that before we get typecast as 'local' singers. That window is closing."
By Art Mooradian
To read more about Tyler Putnam, click here to go to his web site, and click here to visit Sarah Nordin's web site.