The Mezzo Plays it Around the Horn
October 23, 2020
Mezzo soprano Sarah Nordin and Bass-Baritone Tyler Putnam are featured guest artists in the Gulf Coast Symphony's return to the stage at Barbara B. Mann Performing Arts Hall on October 24. The husband-wife team will sing a selection of beloved tunes from Broadway. 
Here's Sarah's story.
Operatic mezzo soprano Sarah Nordin grew up in Crystal River, FL. She comes from a musical family, in which her mother Barbara is active in church music and her sister Katey has a lovely voice she reserves for family events, while brother Joe is a rock musician and songwriter.
And it didn't take long to get Sarah into playing music."I was three years old when I started Suzuki violin. Actually, when I was two, I told my dad I wanted to be 'a singing queen.' But we couldn't find anyone who would teach voice to a two-year old. The only person who would take me was a Suzuki violin teacher. Even the Suzuki method makes you wait until you're three."
Sarah played violin until middle school, where there was no orchestra. "I showed up for band with a fiddle in hand. They said 'sorry, but this is a wind ensemble. So they gave me a French horn held together with a lot of tape."  
Sacré bleu! Forced to change instruments, Sarah was pretty upset, mainly because she had been working on the violin for so long, and the French horn is nothing like the fiddle.
Sarah played French horn through middle and high school in bands and eventually orchestras. But deep down, she yearned to sing. So, she also joined the school choirs. Her singing aspirations got a nice little push from the pianist of her middle-school choir. "Donna Imbt was instrumental for me because she realized I could read music well, unlike most kids. So she started me on a customized sight-singing regimen after school. I still use those skills to work in New York City as a studio musician."
Throughout her schoolgirl and college years, Sarah lived that double musical life — French horn and singing. There was also a violinist in her somewhere, but the fiddle had been long put to rest by circumstance.
When Sarah was 14 years old, her horn teacher sent paid gigs her way for musicals and orchestra concerts performed in the area. "The first paycheck I ever received was for playing the horn. But while I was working down in the orchestra pit, I really longed to be singing up on stage."
Well, she did manage to snag some singing roles in community theater at the time. "The first show I ever did was in community theater while I was in high school. I was Tzeitel in Fiddler on the Roof. We did 19 straight shows. We'd sell out, and they'd schedule another show. It just kept running on and on."
Shoo Horn, or Not
But by the time Sarah finished high school, she had decided she really wanted to be a singer. "Donna Imbt had told me that I could go to music school and be an opera singer. And I've been an opera singer ever since. It was all about being up there on that stage. And I have always loved singing."
And thus began Sarah's life-journey as a mezzo soprano. "From the start, I was a mezzo. Mezzo's all my voice will do. Even my speaking voice is low."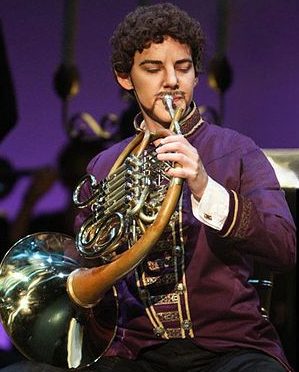 Sarah has played horn on stage a few times. Once as Orlofsky in Die Fledermaus (photo at left) at St Petersburg Opera. She once played a Mozart Horn Concerto with an opera orchestra as one of the divertissements. And she has played in the pit for some productions in which her husband was performing and a horn player was needed, but not a mezzo.
Sarah ended up attending Lee University, a little school in Cleveland, Tenn., just off I-75. "They gave me a huge scholarship to play horn in the orchestra, wind ensemble and symphonic band, but they still allowed me to major in vocal performance."
The offer was particularly sweet because singers trend not to win full scholarships for undergraduate studies, Sarah says. "They don't have to give them out, so they don't." Doubling the French horn, nonetheless, opened that door for her.
One of the prominent music professors at Lee University was David Holsinger, a well-known American conductor and composer of music mainly for wind ensemble. David strongly encouraged Sarah's singing and introduced her to a voice teacher who would become instrumental in building Sarah's operatic career.
That was Tony Deaton, a baritone who taught at the school. "Tony Deaton was a spectacular teacher who really helped me hone in on what an opera voice sounds like. Up to then, I had been doing so much church music and Broadway tunes — belting — and pop. Even though I had loved opera, I really didn't know how to make operatic sounds very well."
It wasn't an easy transition to operatic singing for Sarah. "It was hard. I ended up practicing about three hours to figure out how to make sounds that were operatic." But, most importantly, I learned how to make daily practice a real priority in my life"
Sarah was also fortunate because Lee University didn't have a graduate program in voice. "Most women don't get to perform in college operas as undergrads, except maybe in the chorus. The undergrads aren't even allowed to audition, except maybe for the chorus. The main roles go to grad students." But at Lee, undergrads were the only talent pool for the operas. "We did operas by Mozart and Gilbert and Sullivan, and I got to be a lead in every show I did."
A Metamorphosis 
Sarah got her first big break just after graduating from Lee University by entering the Metropolitan Opera's national singing competition. "I won the district round of the Met competition, and that really solidified my intention to become a professional singer. And the experience pushed my career forward hugely."
Sarah characterizes the district round of the Met trials as a massive cattle call that will blow your mind the first time you do it. "Everyone's allowed to enter. You just pay your $25 and you can sing for a chance at getting into the Met." To win that round, Sarah sang the aria 'Voi Che Sapete' from The Marriage Figaro and "Must the Winter Come So Soon" from Barber's opera Vanessa.
After the district round, the met competition stiffens. And unfortunately Sarah didn't make it further. There was a silver lining, however. The Met competitions are attended by representatives from graduate schools around the country. And by winning her district round, Sarah was recruited by several graduate schools of music. She ultimately accepted a scholarship from the University of Tennessee, which had a working relationship with the local opera company. "That meant I could get paid performing roles as a young artist with the Knoxville Opera while I was working on my graduate degree."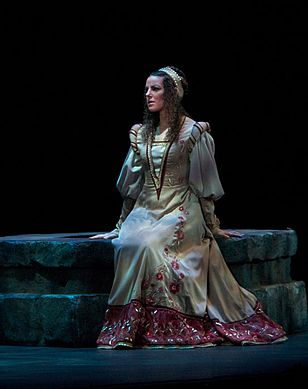 American tenor Caroll Freeman was director of the Knoxville Opera and taught at the university. As such, he was the next major influence on Sarah's artistic development. "Caroll was amazing. He had such a keen eye for lighting and how a production comes together. He prepared me for a professional world where they expect you to meet your marks for lighting and the overall look of the show. In opera, it's very easy for young singers to get lost in their character and music-making and forget about their assigned spots on stage."
It may sound funny, but Sarah says Caroll Freeman also taught her how to walk like a man. That skill is crucial for mezzos because they often play adolescents and boys in operas. "He taught me how to get really confident in a pants role. That has been very important for me because most of the bigger money I've made as an opera singer has been in roles playing males."
Sarah says her favorite operas are in operas by Rossini. "I love comedy, and my voice was made for fast coloratura. Perhaps that's why my first appearance with Gulf Coast Symphony was as Rosina in the Barber of Seville last year.
After garnering her masters from Tennessee, Sarah spent a year in a studio-artist program at the former Orlando Opera, where she seemed always to be playing the role of the lead soprano's diminutive sidekick in big Italian operas. "In a Puccini opera you're like the servant girl, and in a Verdi opera you're the friend who comes out and sings a minute with the soprano, and then the soprano sings at you for like an hour." Still, Sarah was asked to stay on for a second year to cover some roles.
Aria al Dente a Tavola
Needing work after the Orlando Opera folded as a consequence of the 2008 financial crisis, Sarah got a job singing in an Orlando Italian restaurant called Bergamo's, where she says many opera singers and Disney workers ended up that year. "I was there for a year, and then started getting roles in other places, as the crisis abated and companies started hiring again."
She got accepted into summer young-artists programs around the country, including the Central City Opera in Colorado and Opera Theater of St Louis, which Sarah says was one of the best companies for which she has worked.
Another young-artist program in which Sarah participated was at the now-Teatro Nuovo in New York City. It was in the Big Apple in 2010 that Sarah, at age 28, got the chance to sing in the chorus of a Metropolitan Opera production of Boris Godunov. "I loved New York so much, I decided to stay."
Sarah worked with the chorus in Godunov for about a year and a half, before touring during a summer with Met in Japan in Franco Zeffirelli's stage production of La Boheme and in Don Carlo. After that, it was back to New York to sing in the chorus for Verdi's Nabucco.
Then in 2013, Sarah quit the Met to concentrate on singing lead roles. "I had been trying to do this solo thing for so long, but I had gotten sidetracked into the Met chorus because of the money and the prestige of the Met. So in the summer of 2013, I sent the Met a dear john letter."
Eschewing the Met in search of a leading role, Sarah entered a summer young-artists program in Lebanon N.H. at Opera North, where she also met husband Tyler Putnam, a bass-baritone with whom she now often performs. At Opera North, Sarah covered the role of Nellie in South Pacific and played Alma March in Little Women.
After the summer with Opera North, it was time to strike out and find some leading operatic roles for a mezzo. "I had a lot of contacts in Tennessee and Florida, so I started writing to people to let them know I had left the Met. I began getting work, mostly with Florida companies because of my contacts with people who had worked with the Orlando Opera. She also found some lead roles in Upstate New York and Missouri.
And that's how it has been for Sarah since 2013, shuttling between those opera venues. And what about that lifestyle — here a few months, there another few and then over there? "It's not a life for everyone. But I really love getting to know lots of different people and traveling around, seeing different things and going on tours."
But now that she and husband Tyler have a two-year-old daughter, Pauline, the couple are ready to stay put in one place a little longer than in the past. And that is why they are preparing to seek singing positions in one Germany's many state-sponsored opera companies. Many American singers spend time honing their craft in the so-called 'festvertrag' fixed-contract jobs as singers. It's steady employment with benefits at an opera company. The couple is learning German to prepare for an eventual foray into the world of German opera, as soon as the borders open up post COVID.
Viel Gluck, Sarah.
By Art Mooradian
To read more about Sarah Nordin click here and click here to go to Tyler Putnam's web site.