The Musical Man
December 3, 2022
He started as a little kid playing with marionettes at home in Appalachia and then sang and danced his way across America to Broadway. Today, he writes, choreographs and directs musical theatre.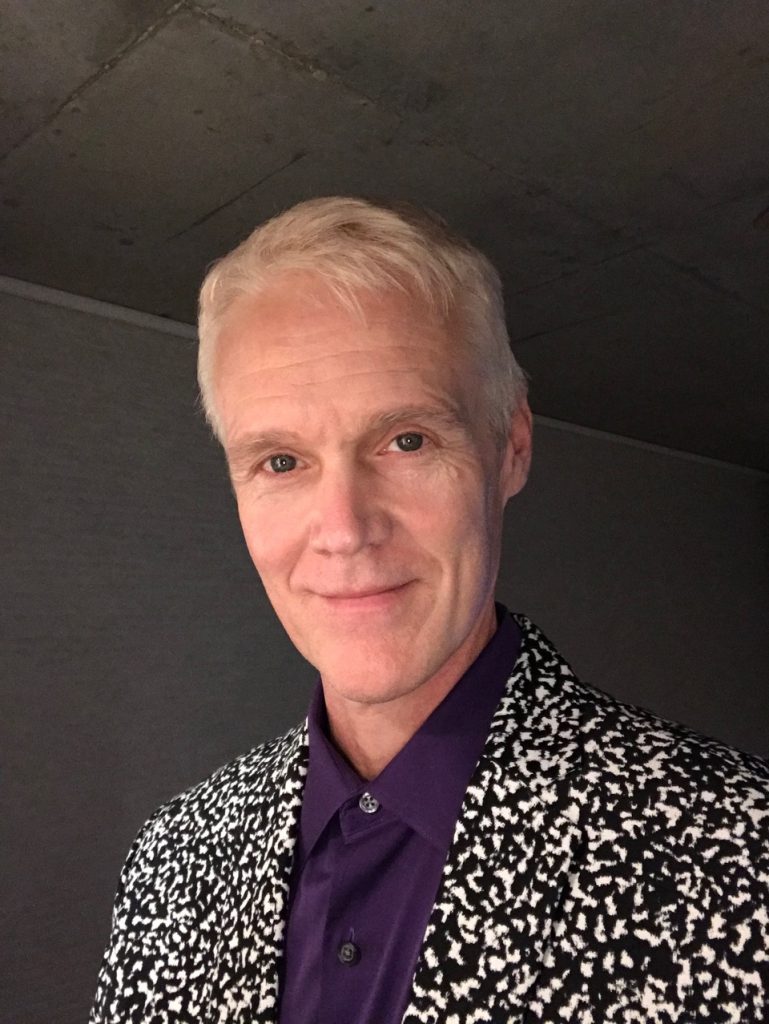 DJ Salisbury fearfully backed out of his first audition for a role in a show after he arrived at the theater. He was all of 11 years old. But since then, he has played with the best of Broadway, and today is a writer, choreographer, producer and director of shows, with his latest coming December 6 with the Gulf Coast Symphony.
DJ hails from Louisa, Kentucky, a small town on the West Virginia border. His wasn't an especially musical or showbiz family, as dad Don was a transporter for Ashland Oil and mother Judy was a city clerk who DJ says was a talented singer.
A dorp in the foothills of the Appalachian mountains where West Virginia, Ohio and Kentucky meet, Louisa in the day didn't have artistic outlets such as community theatre, DJ says. And the schools he attended didn't offer much variety either. "In high school, there was no drama program, as such. There was of course music. "I played saxophone in the school jazz band, bassoon in the concert band and sang in the choral group." He also played the xylophone in the school's marching band.
"I'm essentially a coal miner's son. Okay, I wasn't actually the son of a coal miner, but I went to school with Loretta Lynn's cousins from Butcher Holler. If you've seen the biographical movie about Lynn –Coal Miner's Daughter,– that's the Appalachia where I grew up."
Early on, DJ had a strong interest in musical theatre. And he was able to take some lessons at a local dance studio that closed down not long after he started. "I'm not sure if my mom just saw something in me that she wanted to support or that she just thought it would be good for me and my brother Jon, who was 17 months older, to take dance classes and acrobatics. Maybe she just saw it as an opportunity for physical activity. I took to dancing. Jon hated it."
That was it in terms of his acting and dancing until a role in a production of Anything Goes during his sophomore year at Lawrence County High School. There was, however, a small community theatre group in Ashland, Ky, which was about 35 miles away from Louisa. And DJ and his mom decided to try a hand at that.
"Ashland was quite a trek for us in those days. But my mother saw I was interested, and she was willing to support me." So, the 14-year-old joined the Performing Arts Guild of Ashland, setting out on his life-long journey through the performing arts. "I started in their children's theatre and ended up doing several musicals until I was 17 and left for college. The first show I did there was a production of Alice in Wonderland, in which I played the King of Hearts."
Invitation to the Dance
As a young child, DJ had recognized he had a talent for dance. "Dance was something that seemed to come naturally for me." Then one summer, he got his first professional job. It was for a company called Jenny Wiley Summer Music Theater, named after a well-known historical personage in Eastern Kentucky. He was 16 at the time. "I did four shows at Jenny Wiley Summer Music Theater and got paid a whopping $200 for the whole summer. I was in heaven. I still keep in touch with people from that time. Some have made their names on Broadway and in musical theater elsewhere."
Upon graduating from high school, DJ attended Washington University in St. Louis. "I wanted to be a veterinarian. My family had a variety of exotic pets, including five monkeys during my childhood. My dad enjoyed teaching us about the world through animals."
From a modest background financially, he made it to Washington University on grants. That stay didn't last long. "My family was not wealthy. It was an expensive private university, and all the grants I'd gotten for the first year were discontinued by cutbacks under the Reagan administration." His dad had passed away when DJ was 13, so the family was dependent on just his mother's income.
Still, while at Washington University that freshman year, DJ augmented his studies with some acting and dance classes, impressing his arts instructors. "They tried to find me school funding so I could stay, but they couldn't come up with any. I had to leave."
DJ then applied to an apprenticeship program in New York City at the Harkness House of the Ballet Arts, which had a reputed school of dance. It was situated in a mansion owned by Rebecca Harkness on the Upper East Side of Manhattan. She was a great supporter of the arts and gifted the mansion to the school upon her death, he says.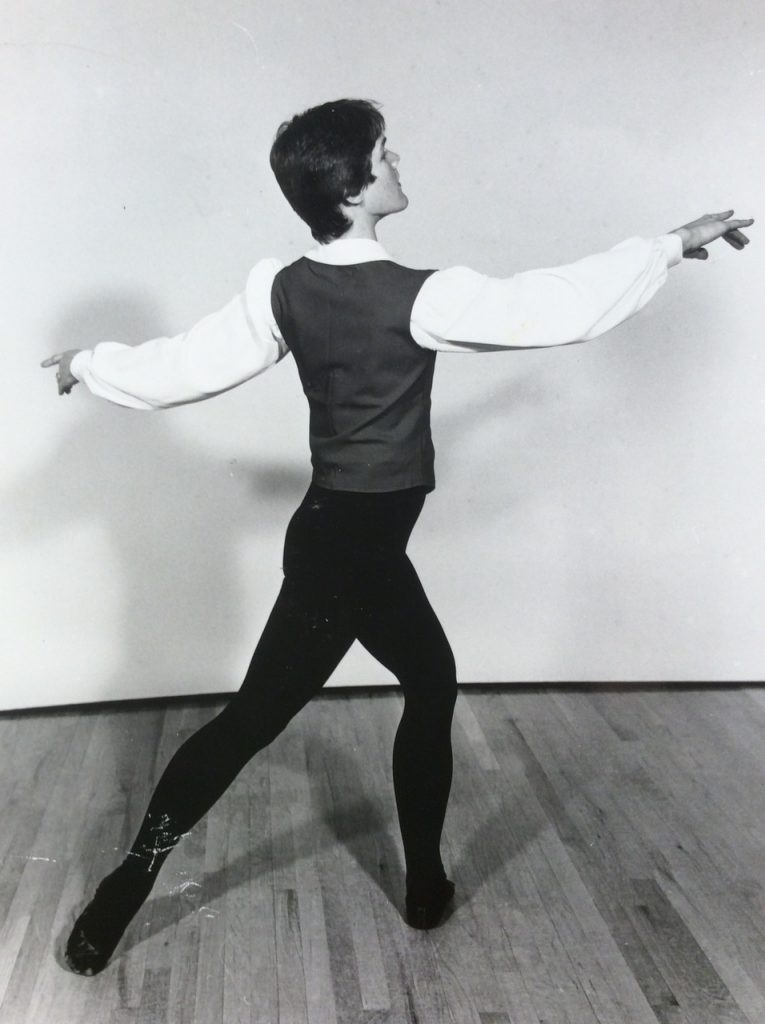 DJ studied in the summer program that year at Harkness. "I got a scholarship there just based on my pictures. No video, no personal audition, just pictures of me in ballet poses." But he says it was a traumatic experience, as his teacher was what he describes as a martinet. "So when they offered me a scholarship to stay on for the coming school year, I said: 'No thanks!'"
Undeterred, DJ then found the State University of New York at Purchase, a school with strong programs in acting, music and dance. "I was intrigued by them because they had a whole building dedicated to dance, which essentially was more of my focus. I thought I'd explore dance training at SUNY Purchase in what was my sophomore year of college."
At SUNY, DJ expected to get a rounded training in the disciplines of musical theater – from dance to music to acting. But it didn't turn out that way. He says that at that time there wasn't an integrated musical theatre program there, just separate dance, acting and music conservatory-like programs. And because he was transferring from a liberal arts program at Washington University, he didn't qualify for the SUNY acting and dance degree programs. "The good news was that they allowed students in liberal arts to take some dance classes, and I passed the audition to participate. As it turned out, I could take varied courses in the liberal arts and take whatever dance classes I wanted."
Although there was no integrated musical theatre program at SUNY Purchase, there was an annual all-school musical production. "They did Pippin that year. I auditioned and got the role of the character known as Leading Player, which Ben Vereen did on Broadway. But I was a slender, blonde six-foot-three fellow, so the director turned me into a Ziggy Stardust sort of character instead of the traditional take." Still, being in that show cemented the future course of DJ's life – musical theatre. "There was now absolute clarity. That was what I was going to do."
Though SUNY wasn't a particularly expensive university, its cost was still beyond his and his family's means, DJ says. So after a year, he left to find an affordable school back home. That was Western Kentucky University, one of only two universities in-state that offered musical-theatre degree programs in the 80s.
A Spoon Full of Sugar
And then fate showed its hand. "I was in the dance company. And for our spring and fall concerts I started choreographing. In my junior year, I proposed an independent study for credit to write a musical. I found a fellow named Jerry Williams in the music department to write a score. I wrote the book and lyrics and he wrote the music for a full-length children's theatre piece based upon the Mary Poppins novels. The show had essentially the same concept as the recent Disney film, but mine was written in 1984."
DJ says his professors produced his musical the next school year, his senior year. "I had the great fortune of having the very first full-length musical I wrote get produced. I also directed it." He finished his time at WKU with a Bachelor of Fine Arts degree in performing arts.
DJ says musical theatre may hold a lot of song and dance, but at its heart, the genre is about telling a story. He goes back to when he was nine years old to trace his foray into story-telling. "I started making up stories with puppets when I was a child. I had 18 marionettes. And every Christmas, Mom would get me more marionettes."
At that age, DJ had learned something else about himself. He didn't perform his puppet shows for anyone else. "No, they were just for me. The thought of performing in public was terrifying." That may explain why when going to that audition for Oliver with the Jenny Wiley troupe at age 11, he backed out at the last minute. "I had begged my mother to take me. But as I sat there in the theater watching the other children singing their auditions, I suddenly couldn't move. I was paralyzed by fear, even though I knew I could sing as well as, if not better than, the others."
DJ says he was thrown into the world as a very shy person. But to succeed in the theatre, he would have to cast aside fear and keep up a public persona that would allow him to choreograph, produce and direct. More on that later.
When You Wish Upon a Star
After graduating from Western Kentucky, the 21-year-old DJ landed his first professional job by winning a 13-month contract with the World Dancer ensemble at the EPCOT theme park at Disney World in Orlando. "It was a show stringing together ethnic dances from around the world. It was a difficult job. We'd do four 30-minute shows a day outside on an uncovered stage in the heat of the Florida summer."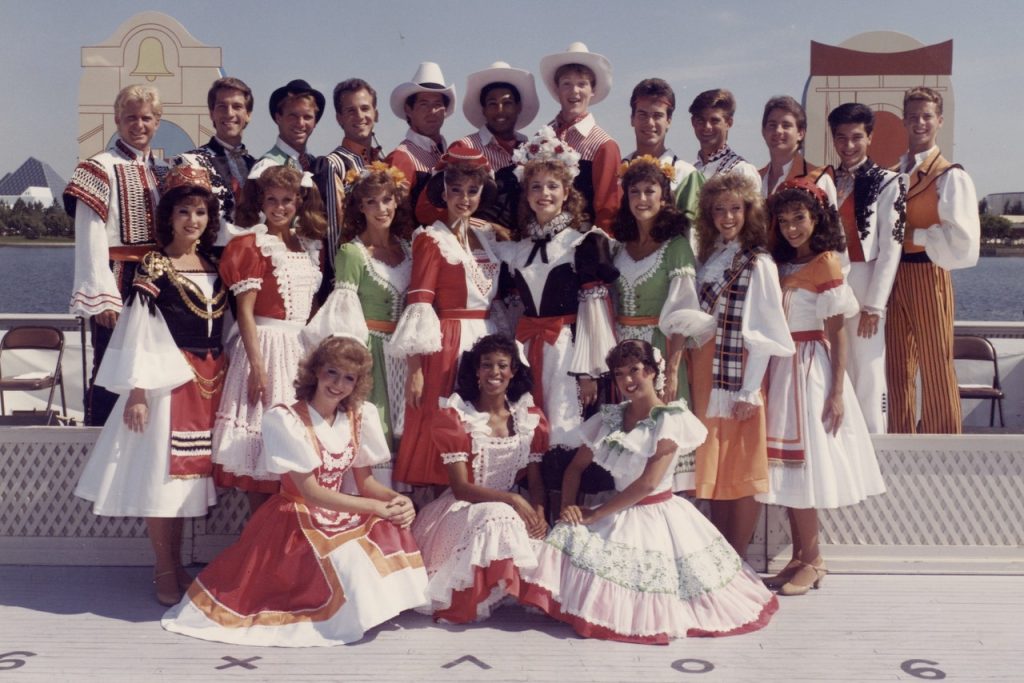 DJ says that for performers, Disney was the acme for theme-park entertainment, and many an actor has begun his or her career in the nation's theme parks. "Everybody wanted to work for Disney because the pay and show quality were great. I worked with very young and very talented people, many of whom have gone on to great notoriety in musical theatre."
Upon completing his time at Disney, DJ found work at Orlando's Southern Ballet Theater, now known as the Orlando Ballet. At the Southern Ballet, DJ cherished the teaching of ballet master Russell Sultzbach, a Joffrey Ballet alumnus, "He was like a coach. He was all about encouragement. A stunning dancer himself, he was a great example to us. Russell rekindled my love of dance in general and ballet specifically. I still wanted to be a musical theatre performer. But I had great training that year with Russell."
In the meantime, in 1986, DJ put in a summer stint at Pittsburgh's Civic Light Opera, performing in The Best Little Whorehouse in Texas and earning a coveted Actors Equity Association card that is the key to work on the country's professional stages. With Equity card in hand, DJ pulled a job in A Chorus Line with the Encore Dinner Theater in St. Petersburg, Florida. "That's another place where I worked with people who went on to have great careers." And from there at age 24, he made the move to New York City, mecca of musical theatre.
Once in New York, DJ found work with the Equity Library Theater, which put on concert or slimmed-down versions of shows that weren't likely to be revived on Broadway, such as No No Nanette, in which he performed. A year later, his career took an international turn with an ensemble role in a production of My Fair Lady that toured Japan, starring Noel Harrison and directed by James Hammerstein, both scion's of musical theatre royalty.
After returning to the U.S., DJ took a course to build up his confidence on stage and in public. It was about getting out of his comfort zone, he says. And then he put what he had learned to the test by auditioning for a Broadway musical workshop of a new musical called The Will Rogers Follies, written by Peter Stone, with music by Cy Coleman and lyrics by Betty Comden and Adolf Green. All Broadway giants. And to boot, the show was directed and choreographed by Tommy Tune.
DJ made it through to the final round of auditions for the four male roles in the workshop -a barbershop quartet– only to lose out. "But then I walked right up to the dance captain and gave her my resume, saying: 'I know I've been cut. But if there is the opportunity to watch the process, that's what I'm really interested in – learning the skill of putting together a new show."
DJ says the dance captain was puzzled by his rather unusual request. Still, she took his resume to the associate director. The next day he was in the audience of an informal pre-tour presentation of Grand Hotel in the same space as the Will Rogers audition. "In the middle of the show, Phil Osterman – Tommy Tune's associate – walked over and handed me a note suggesting I call him the next morning if I was still interested in being a production assistant." The next day, DJ started working in the early throes of what would become a Tony Award winning musical.
There's No Business Like Show Business
His first day on the job was a pre-production session honing the show's songs and dances before the show's eventual actors arrived on the scene. "Cy Coleman was at the piano and Tommy Tune's associate choreographer Jeff Calhoun handed me a cowboy hat and had me start working on the dance numbers with his small team. And here I thought I would only be fetching coffee and such."

Well, during the pre-production and workshop phases of the musical, DJ says, he became more and more enmeshed in preparation of the show. That even included standing in for female dancers who had yet to be hired. "I felt very much utilized in the process of putting together the show as opposed to simply being an observer. I tell people that I went to Tommy Tune University. I watched the great Tommy Tune, Jeff Calhoun and the rest of the team put together a show written by Peter Stone, Cy Coleman, Betty Comden and Adolf Green… Broadway's A team."
The workshop lasted five weeks. And for DJ, that was that. But he had formed relationships with those influential people. A year later he was hired as dance captain and a sort of substitute called a swing actor in the national tour production of The Will Rogers Follies, a two-year stint. Yup, no guts, no glory!

DJ also worked as dance captain and swing actor for the national tour of Grease, which was directed by his mentor Jeff Calhoun. He also worked as swing and dance captain in the Broadway and national tour productions of The Wizard of Oz starring Eartha Kitt and Mickey Rooney. In between the touring shows, he acted in regional summer stock and worked in some others as choreographer and director.
In the year 2000, after the Wizard, DJ wanted to concentrate on directing, so he stopped performing. "I didn't want people in the industry to see me as a performer who was a wannabe director. I wanted them to see me as director and choreographer in my own right."
Later that year, he got his chance. DJ had been hired by the Arts Center of Coastal Carolina to choreograph a rendition of Great Expectations. That went well, he says, and the South Carolina theatre company asked him back to direct and choreograph a version of Man of La Mancha. "That's what launched me into the combined director and choreographer track. Since then, most of my work has been as director/choreographer."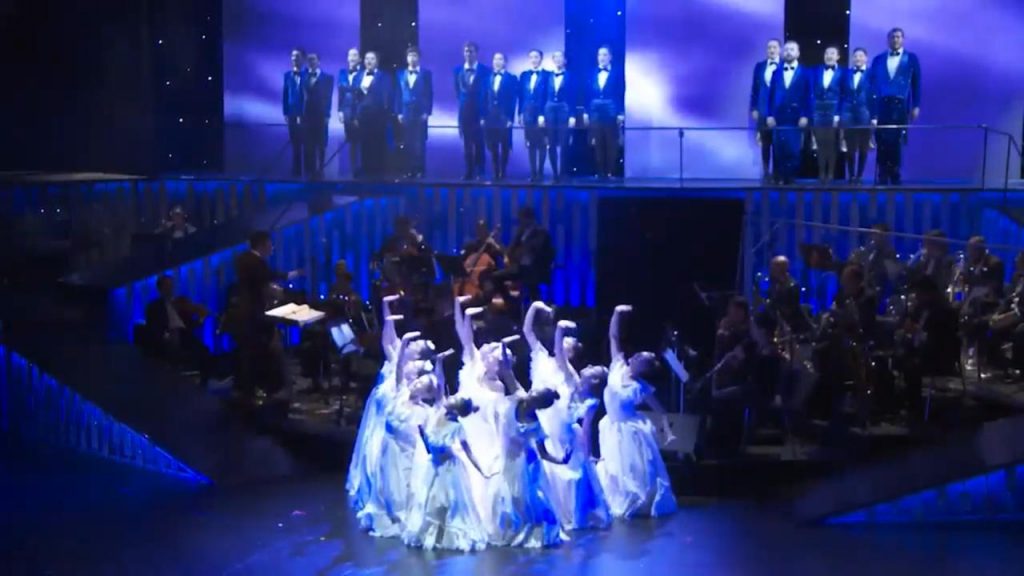 Now, let's fast-forward to the present and to the December 3-18 world-premier performances with the Gulf Coast Symphony of a holiday review called Snowbird Follies, which DJ has written and is directing. This will be his third collaboration with the GCS, having worked with the ensemble in 2021 (Altar Boyz) and this past spring (Next to Normal.)
The new show features four actor/singers performing with piano accompaniment by music director Julie Carver. "The intent is to show a little bit of what it is like to be a snowbird in Florida during the holidays." DJ should know something about the holidays in Florida, having worked for Disney World in the 80s and as he now resides in Orlando, after his 30 years in New York City.
So, how did DJ start putting together Snowbird Follies? Well, he says Gulf Coast Symphony CEO and Artistic Director Andrew Kurtz approached him about putting together a project around the history of Fort Myers. "From there I started researching songs that might play into what it is like to have a Christmas time holiday in Florida. I had an idea of a few songs we could do, and then Andrew and I got together, listened to some more songs and got a take on what we should do."
What they came up with is an eight-segment story starting out with Fort Myers' most famous snowbirds – Thomas Edison and Henry Ford. There's also a jazzy 1940's section of the show celebrating McCollum Hall, former home of the Afro-American USO of World War II. And there will also be a section about being home for the holidays.
Well, we don't want to give away the entire show, so we'll stop here. For the record, this will be the 5th holiday show DJ has written. "It's always a fun process!"
Snowbird Follies will be performed December 3-18 at the Gulf Coast Symphony's Music and Arts Community Center in Fort Myers.
By Art Mooradian