Q & A with Doug LaBrecque
April 11, 2017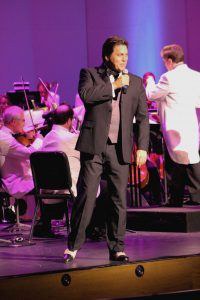 Doug LaBreque has created a prestigious touring career singing around the world with symphony orchestras. A dear friend to Gulf Coast Symphony, Doug was in our concert, From Hollywood to Broadway. We asked him a few questions about touring, music, and why he loves Southwest Florida (hint: he doesn't miss tee time!)
Q:  You have had an amazing career in both theatre and concert performances. What are some of the rewards and challenges of these two different performance types?
Doug: The concert world and the theater world each are fraught with different sets of challenges. The challenge of doing eight shows a week is a constant struggle for many people, but the rewards of having a live audience are always thrilling.  It's always magnificent to hear Broadway music played by a full orchestra which really takes it to another level.
The challenges of a concert career are more logistical…. Flight delays, hotel complications, finding food after 11 PM etc. 
Q: How do you find balance while touring?
Doug: It's fairly easy to find balance with a concert career. I am able to spend time with friends and family between my rehearsals before heading out for the weekend to do a wonderful concert.
Q:What behind-the-scenes aspect do you think would surprise audience members about creating fully staged shows and concerts. 
Doug: I think audiences would be shocked to see the sheer number of people it takes to make one performance happen. The people on stage tend to get the glory, but the real heroes are often behind the scenes. 
Q:What kind of music do you listen to outside of work?
Doug: Surprisingly, I do not listen to a lot of music. I Mostly prefer quiet. But when I do listen I almost always LISTEN.  My brain can never really turn off if there is background music.  I love classical guitar and piano and most lyrical symphonic works.  I like the celebrated vocalists of the Great American SongBook with a particular fondness for the 1950's self described "Girl Singers". I have a deep respect for the great 20th century songwriters-Kern, Gershwin, Rodgers, Porter, Arlen, Berlin etc.
Q:What are you most looking forward to while being in Southwest Florida? 
Doug: I spend a lot of time in Southwest Florida with my family and I get spoiled by the beautiful weather. I love the gulf and the golf!
Be sure to keep up with Doug and see exclusive media on his website http://douglabrecque.com/. Featured below, a medley from Showboat with co-star Christiane Noll