A Boy Without a Country
August 28, 2020
Arriving After WWII From Europe Without a Nation to His Name, GCS Violinist Gil Jacobson Staked His Claim to the American Dream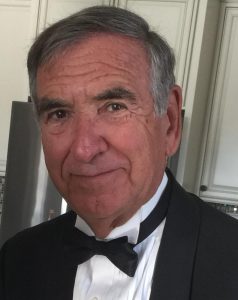 It's funny how a parent's life-altering decision puts us on a path away from danger and, in some cases, toward the fiddle.
In 1939, Henry Jacobson was a German Jew living and working in France, with a French wife and a young son. Anticipating the impending European conflagration, Henry, who owned a leather goods factory, fled with his family to Switzerland the night before the border was closed.
And it was 1940 in Zurich when Gulf Coast Symphony violinist Gil Jacobson was born. "We lived in Switzerland until 1945, at which time we moved to Paris for a year and then to the United States."
Though born in Zurich, Gil grew up in Geneva, just a stone's throw from German-occupied France. And because the Swiss wouldn't grant him citizenship, he spent those years and arrived in the U.S. as a stateless person.
"We came over on a troop ship from Europe. I remember how impressive it was to see the skyscrapers in Manhattan and the crowds of people. At the time, I knew two words in English — 'yes' and 'no.' So when someone asked me a question, I would have to decide whether to answer 'yes' or 'no,' even though the question might not relate to either of those words."
The family initially lived in Philadelphia and then moved to Queens N.Y., where Gil, a freshly-minted U.S. citizen, vaulted into the world of music. He had started taking violin lessons in Philly. But his studies took off once he arrived in New York. He played violin in elementary school. And perhaps more significantly, he was accepted into the preparatory division of the Juilliard School. For the next five years, he spent Saturdays at Julliard, taking lessons and courses and playing in ensembles with other gifted young musicians.
His teen years took Gil ever deeper into the musical scene. "I played in the high school orchestra, while continuing to take lessons at Julliard. In the summers, I went to music camps."
At Julliard Prep, Gil studied with violinist Margaret Pardee, a prominent pedagogue and a protegé of violin guru Ivan Golamian. And besides his high-school orchestra, he performed with the Great Neck Symphony and the then-Queens College Orchestral Society.
Gil was also one of 25 high school students in New York City chosen to play with the New York Philharmonic in a concert at Carnegie Hall. GCS violinist Mary Ann Farese also performed in that concert. "I met her when we were 16 years old, and here we are playing together now in the Gulf Coast Symphony. That is ironic and wonderful."
Hail, Hail Fredonia!
Gil studied music education at the State University of New York at Fredonia, though his musical exploits took him a bit farther afield. "The Erie (Pennsylvania) Philharmonic used to hire extra players for concerts from the university at Fredonia. I was one of them. We were 50 miles away from Erie, so the orchestra would send a bus for us twice a week or so for rehearsals and concerts." Gil was paid modestly by the Erie orchestra. "It beat washing dishes or scrubbing floors, which some of my other friends were doing to make a buck."
His teacher at Fredonia was violinist Homer Garretson, and he graduated with a Bachelor of Science in Music Education. GCS principal clarinettist John Giacco had graduated from Fredonia a couple years before — small world.
Gil left Fredonia in 1962 and moved back to Queens. He then took a position in Valley Stream, just outside New York City on Long Island, teaching music in elementary schools. By the seventh year there, however, he chafed at his low teacher's salary and opted to get into school administration.
Gil did manage to interact musically with adults during those years. "I was with a small chamber music group. It was on occasions a trio, a piano quartet or some other combination. We ended up doing a fair amount, playing at churches, weddings and other events."
But then Gil packed away his violin and didn't take it out until decades later. Once in management, he committed his time to his family and a demanding profession. "My focus moved away from playing music, though listening to music was something I did every day. The love and appreciation of music never left me."
While in Valley Stream, Gil beefed up his resumé with a Masters in Music Education and a post-graduate Certification in School Administration, both from Queens College. Years later, he earned a Doctorate in School Administration from Columbia University's Teachers College.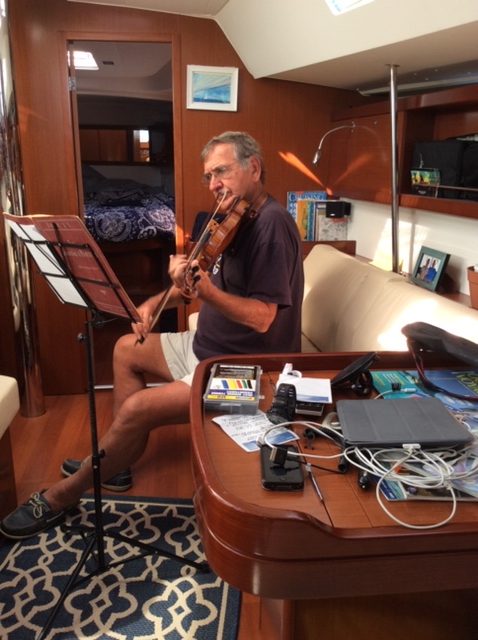 Leaving Long Island to become a school administrator in Pike County, PA, Gil worked in a four-community school district. "I spent five years there working directly with the Superintendent of Schools, exposing me to every facet of school administration."
And in Pennsylvania, Gil became a boating enthusiast. Over the years, Gil made his way from the 14-footer he sailed on Lake Mohawk to a 42-foot Catalina he sailed out of Annapolis on Chesapeake Bay. But that part of the story comes later.
After five years in Pike County, Gil was 34 years old and keen for a bigger and more-challenging role. So he found a position in Westchester County, NY, as an Assistant Superintendent of Schools for the Yorktown Central School District.
Four years later, he moved up to Assistant Superintendent for Business and Administrative Services for one of New York State's regional Boards of Cooperative Education Services, where he worked from 1978 to 1991. That body provided ancillary services, such as special education, occupational education, computer services and staff development, to the dozens of school districts under its purview.
No Trains, but Boats and Planes
Now, let's get back to that Catalina. In 1990, Gil and his wife Carole moved it to Annapolis harbor, where they could keep it and sail on weekends close to their daughter Debbie, who was a student at nearby University of Maryland. Inspired by an aviator friend, Gil then got an airplane pilot's license and bought a Cessna that he flew all over the East Coast. Incidentally, he cut that weekend commute to Maryland from Westchester to about an hour each way by air from 4 ½ hours by car.
Gil put away his aviator goggles just before relocating in Fort Myers. "I was about 73 years old and had flown for 20 years. But I realized that my hearing, eyesight and reflexes weren't what they used to be."
Okay, back to the timeline: After 35 years in public education, Gil in 1997 moved into the private sector to work for a New York-based risk management firm as a "rainmaker" and project manager for its schools-services business.
So what's risk management? Well, in Gil's case, his firm worked with insurance companies and schools to help create a safer workplace by eliminating hazards and to more effectively manage claims. "The goal was to anticipate and avoid accidents. If you can minimize accidents, you minimize your insurance premiums." The firm would also help insurers manage their risk portfolios and run other services insurers provided.
What made Gil particularly attractive were his management skills and his past presidency of the New York State Association of School Business Officials. "I knew a lot of people — lots of people. They hired me because I could make a phone call and get a salesperson in to see a potential client. I opened doors for them and brought credibility to the firm."
And through all that time, not a tug on a violin string. That is, until Gil chanced upon another taste of the musical life. "I had put the violin down and didn't pick it up until 2011. That was when a new community orchestra sprang up in the area. "I thought: 'you know what, maybe I should pick up the violin again and see if I could still play.'" Well, after a hiatus of 40 years, Gil unpacked his fiddle and joined the New Westchester Symphony, eventually becoming concertmaster.
Then came Fort Myers. As with most of us here in Southwest Florida, Gil found the weather, lifestyle and friendly tax regime just too enticing. So he and wife Carole moved here in 2013. "I like living in Fort Myers because we liked the people and it felt like home. I don't have to put on airs for anybody, and you can be yourself."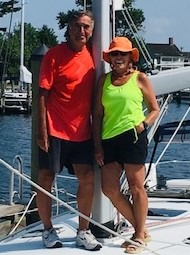 And bitten by the orchestra bug, Gil found the Gulf Coast Symphony on the Internet just before deciding to move south. "The fact that there was a community orchestra was a tremendous attraction to move to Fort Myers." In 2014, Gil found a new musical home with the second violins of the GCS.
But the next year tragedy struck, as Gil's wife of 52 years, Carole, passed away. That was a dark time for him. But he since has met and married the former Jeanne Quick. "I feel very blessed at my age to have found someone like Jeanne. We share common values and interests and look forward to many new adventures together."
Oh, and remember those sailboats? Well, at 80, Gil still sails, though he sold the Catalina a couple years ago and now charters boats that he captains on sailing vacations.
Sail on, Gil.
By Art Mooradian