An Opera With a Different Tenor
August 13, 2020
Shawn Rieschl Johnson Lands a Lead Role Helping the Gulf Coast Symphony's New Music and Arts Community Center Take the Stage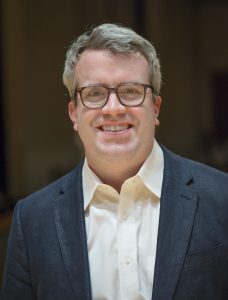 This is not a story about a promising elementary school musician who develops through high school and university to a career that may or may not be teaching or performing music before finding a home in Gulf Coast Symphony decades later. That's someone else's life.
In fact, Shawn Rieschl Johnson, director of the Symphony's new Music and Arts Community Center, was a pretty poor French horn player as a schoolboy, so much so that he aimed for a future in non-music secondary education.
But his career path ironically wound Shawn through the operatic world, eventually leading him to the GCS and its quest to become a hub for community music and the arts in Lee County. "This opportunity with the Gulf Coast Symphony to take a vision and create something from scratch is really a once-in-a-lifetime opportunity," he says.
But let's back up a bit, skipping over his adventure with the French horn. Educated to become a high-school teacher, Shawn seeped into the opera world at his alma mater Indiana University. "While I was there, I had a student job at the School of Music in the opera house. I was an electrician and then a stage manager. When I finished college, rather than just teach school, I went into professionally stage-managing opera."
So, stashing away his Bachelor's degree in Theatre and Speech Communication in Secondary Education, Shawn embarked on a career as a freelance stage manager for some operas around the country. To start, he won an internship with the Santa Fe Opera, which has a renowned training program for budding operatic artists and technicians. "It's a real nurturing environment to learn, and after the internship, I ended up with a staff position there that led to other contracts."
That's the sort of program the Gulf Coast Symphony envisions for its new Music and Arts Community Center on the sprawling campus of its partner — the Unitarian Universalist Church of Fort Myers, which is off Daniels Parkway on Shire Lane.
The Symphony plans to hire recent college and music-school grads to play in a new professional chamber ensemble that will be a sister to the 25-year-old volunteer Gulf Coast Symphony. The professionals will also teach music classes and offer instrumental instruction at the Center. The idea is to give budding pros two or three years experience playing and teaching with the MACC before they try for long-term positions at major orchestras, operas and ballet companies.
On the Road Again
Now back to Shawn. Because his work in Santa Fe was only seasonal, he needed to find some work elsewhere, as well. "I would fill out my whole year with different lengths of contracts. Sometimes I would be in a city for 3 ½ weeks, sometimes three months or six months. I eventually settled into a calendar in which I was in Santa Fe for the summer months, five months in Chicago at the Lyric Opera, and then I'd fill the rest of the time with whatever work I could find."
Thus, Shawn spent eight years as a freelance stage manager. Besides Santa Fe and Chicago, he worked in Milwaukee, West Palm Beach, Miami and other cities.
So, what does a stage manager do? Shawn says a stage manager functions as a show's flight control, keeping everyone moving in the right direction and on the same page. On a technical level, he would give lighting and scenery cues, making sure everything and everyone is coordinated and moving as required during the show.
"A good example is when a director decides two characters in a scene at one point will kneel. There are a lot of implications: Carpenters need to know people are going to be touching the floor, which determines how often they'll sweep. Costumers need to know fabric will touch the floor and that it is very likely that some artists will need to wear knee pads. Meanwhile, the lighting designer needs to know people are going to be on the floor so that they can adjust the lighting. There are a lot of small factors that need to be communicated out."
His position at Gulf Coast Symphony's Music and Arts Center, however, takes Shawn out of the stage-management business per se, though he envisions helping plan productions. "My focus is on the operational side, taking the plans and vision of Music and Executive Director Andrew Kurtz and making them work on a day-today basis."
Before the COVID-19 pandemic, the Gulf Coast Symphony staged operas, ballets and Broadway musicals, in addition to pops and classical concerts year-round. And with the new Music and Arts Center, the array of productions will expand to include professional chamber music, film screenings, jazz concerts, indie rock, and more. 
It is envisioned that once life gets back to normal, the Gulf Coast Symphony's main orchestra will continue to perform the bulk of its concerts at the Barbara B. Mann Performing Arts Hall, though three to four events a year would take place at the Center.
So, Shawn has his work cut out for him. The Center also plans to offer as many as 54 month-long music and arts classes. Courses will be varied, providing educational opportunities for all ages. Moreover, the Center will be a venue for the Symphony's MusicWorks! after-school orchestral education program that provides free music instruction to disadvantaged youth.
Georgia on His Mind
Meanwhile, we return to the past. Shawn pivoted largely between Santa Fe and Chicago until he was 30 years old. That's when husband Christian's job took them to live in Atlanta. "It seemed like a good moment to re-evaluate what I was doing, with all that traveling to jobs and the such. So, I started working as a freelance stage manager at the Atlanta Opera and that ended up being a fulltime position."
Shawn sees his career as a progression of problem-solving jobs. He says stage managers solve problems real-time. And that's also what one does, though on a different level and timescale, as the administrator of an arts center. "By the end of my time at the Atlanta Opera, I was in charge of the artistic, technical and education departments. So I had everything except finance and fundraising under my umbrella."
During his time in the opera world, Shawn worked with some well-known names. "I had the opportunity to work on productions with celebrated signers like Renée Fleming, Natalie Dessay and Susan Graham. In Chicago, I worked a lot with A-list singers. Over my career, I worked repeatedly with the director Peter Sellars and conductors Sir Andrew Davis and Allan Gilbert, among others."
So what is it like working with big names? "Most of the opera world consists of traveling artists. And I would say, actually, that the more professional they are, the less problematic they are. They might have more concrete ideas about what they want. So, they might be sticklers. But they know what they need in order to get the job done. You rarely have truly talented artists who make a fuss over nothing. But yes, an opera rehearsal is a room full of extremely large personalities."
Shawn was with the Atlanta Opera for five seasons. He then changed tack a bit, taking a job at Kennesaw State University, which is just north of Atlanta. There, he was Associate Director of the School of Music in Charge of Programming and Operations. He ran the university's concerts and the performance hall. He managed about 85 concerts a year. He was at Kennesaw State for three years, during which time he also earned an MBA.
A Match Made in Fort Myers
Then came Fort Myers, a move precipitated by husband Christian taking a job here as a national retail executive. Shortly thereafter, the Gulf Coast Symphony's need for an MACC director and Shawn's search for a fitting job found each other.
"We got very lucky to find somebody who has a unique combination of business entrepreneurship blended with the experience of running a performing arts center and a production background," GCS director Kurtz says.
Working at the new MACC is like painting on a clean canvas for Shawn. "We have a very clear vision, and we know where we want to end up. But the steps between here and there are still undefined. We walk into a room and ask: 'How do we make this into a theater?' We walk onto our campus here and ask: 'How do we make this a thriving center of classes.'"
Shawn says his position at the Center is a natural progression in his career as an arts administrator. "My MBA program really pushed us to think entrepreneurially, and it got me to think about the business of arts in a very different way."
The key, he says, is to avoid creating silos within the organization. Shawn says many arts organizations are strictly structured, with little crossover of tasks and out-of-the-box thinking allowed. But at the Gulf Coast Symphony, Maestro Kurtz has assembled a group of people with multiple talents and work backgrounds that lend themselves to a collaborative approach, Shawn says. "Under Andrew's leadership, we really have free range to create and change processes."
He explains that the Symphony and the Music and Arts Center are embracing new technology for the entire operation, streamlining staff work processes, enhancing information management, employing robotic cameras for streaming performances and automating how they sell tickets, among others.
"In the next six to 12 months, in addition to seeing lots of music and arts programming at the Center, our patrons and colleagues are going to notice a change in the level of efficiency. But we won't lose that personal touch."
Well, for Shawn and the Gulf Coast Symphony, the coming months and years may show their own force of destiny.
By Art Mooradian