Redemption
October 2, 2020
The Gulf Coast Symphony's John Wadsworth Was a Big-Time Session Trombonist as a Young Man, But He Later Found Solace in Playing the Double Bass 
As a young session musician in his hometown of Philadelphia, John Wadsworth had it all – the buzz, the money, the cars, the homes and a nice little family. But the jazz and rock life takes its toll on the soul, often leading talented musicians to fall over the edge. John's journey took him to the point of no return, only he didn't like what he saw and came back.
John Wadsworth was born into a long line of Italian professional musicians. His grandfather Giacinto Vitocolonna came to U.S. in 1912 as a wunderkind on the French horn. He was a mainstay of the Philadelphia Orchestra from the end of the Stakowski years and well into the Ormandy era. "He was Philadelphia music royalty," John says.
John got an early taste of symphony life on occasional Saturdays when Giacinto would take his five-year-old grandson to orchestra rehearsals at the Academy of Music, where John sat next to him on a low stool during the session."Everytime I started to fidget I would feel a firm hand on my shoulder." Little Johnny would even receive a kind gesture or two from Maestro Eugene himself.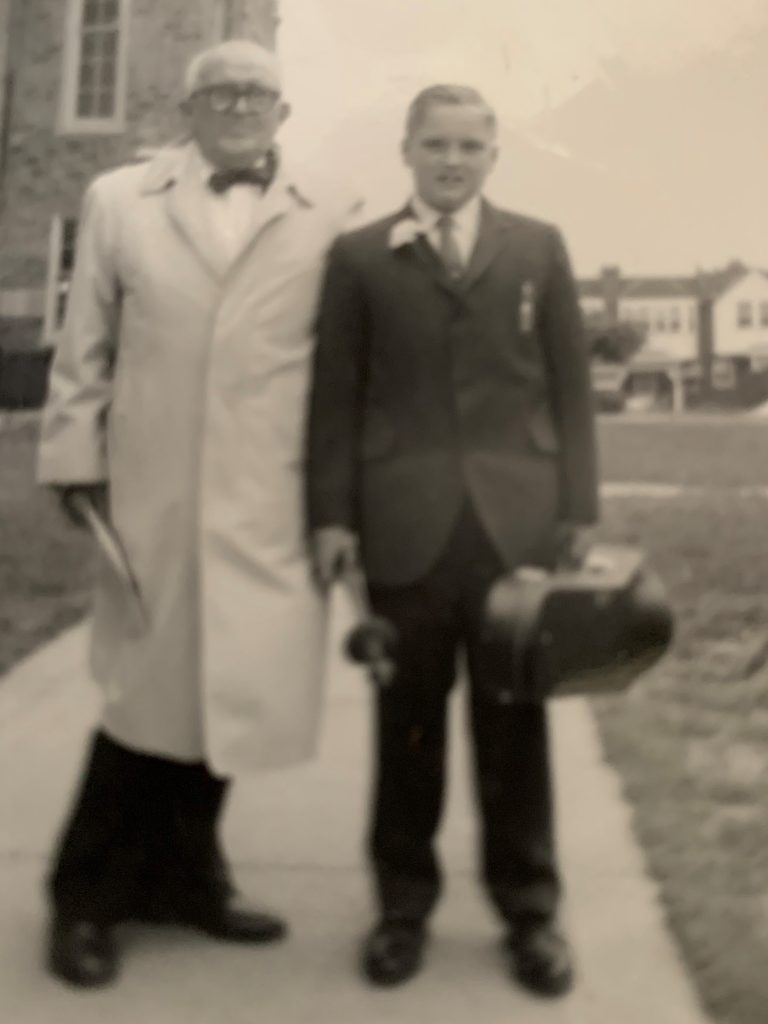 John began his musical studies at an early age. "They started me on the piano when I was 3 ½ or four years old, and I didn't show much talent, though I learned a lot about music. So when I was eight, I moved to the trombone."
His uncle Carmen was a jazz trombone player and John's teacher. "In my family, playing music was taken very seriously. When you practiced, everyone in the house had to be quiet. And if as a student you didn't take it seriously, they would just cut you off." Granddad and Carmen didn't mess around.
Sweet Sixteen
Teenage John, by his own reckoning, was "pretty damn good" at the trombone. He played in school orchestras and bands but also worked professionally in adult jazz bands on the weekends. "When I was 16, I started working in my uncle's jazz band — The Carmen Vito Orchestra– as third trombone."
The precocious teen jazzer didn't stop there. He also was recruited by his high school music teacher Al Raymond, who fronted a well-known "society band" called the Al Raymond Orchestra. "We played huge weddings, bar mitzvahs and other events around Philadelphia in the best hotels. So I'm 16-17 years old, and I'm doing all right, while still in high school."
When John was 19 years old, he became a student of Glen Dodson, principal trombonist for the Philadelphia orchestra. "That started a wonderful six-year musical relationship with the best trombonist I ever heard. He just changed everything about my playing. I went from low-level, okay professional playing second or third trombone to having this incredibly beautiful sound."
Dodson did session work on the side and invited John to stand in for him on paying jobs now and then. John was taking any other musical work he could get, while studying part time for a English degree at St. Joseph's University. "I was a side man. I didn't really play full time with anybody, I was just all over the place. 'Have 'bone, will travel.'"
Eventually, John found his way into music-recording circles. "I discovered an entirely new world there for me. People were paying big money. That was 1970. But the pressure was intense. For that kind of pay, you were expected to get it right the first time. And the first couple of times, I had my head handed to me."
When he got to the recording studio, John would be handed the song sheet for the session and given a few moments to review it. Sometimes, he played with a few other musicians, say, a rhythm section. Other times, he would record on his own, laying down a track to be merged with others. "It was a little nerve-racking at first. But I got used to it, and then I started to love it."
During that time, the so-called Philly Sound was sweeping through the soul music scene. "There was a house orchestra at the (iconic) Sigma Sound Studios called MFSB. One day when I was at the studio, one of MFSB's trombone players couldn't make it. So they asked me to fill in. I jumped at the opportunity and ended up doing a couple of years of subbing work doing the Philly Sound."
The Day the Music Died
That era turned out to be the heyday of John's musical career. "The Philadelphia recording industry was really big at that time. Everybody was coming into Philly to record. They would come to Sigma Sound and have Kenny Gamble and Leon Huff as producers, with Thom Bell writing melodies and Lynda Creed doing the lyrics. While there, I worked on a wonderful Johnny Mathis album called I'm coming home."
By the time he was 25, John was also working nightclubs such as Philly's Latin Casino and Palumbo's. And he did some musicals at the Forrest Theatre. "I was in with the A-List crowd at that point. So I was getting calls for work. Life was pretty good. I was making really good money. I was driving fast cars. I had a house down at the Jersey Shore, I had a house in Pennsylvania. I thought 'Man, this music thing is pretty easy.'"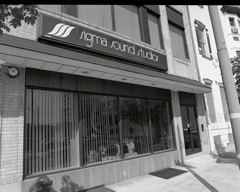 Other headliners with whom John played included Barry Manilow, Vic Damone, The Supremes, The Carpenters, The Temptations, and Victor Borge, among others. In 1978, John even got a call to play for Frank Sinatra at the Sands Casino in Atlantic City. "But I was asked to leave without playing a note because of a union conflict. You really didn't want to fight with those local union guys, if you know what I mean."
Then the clouds started gathering. "Around 1980, the music business started to change, big time. Synthesizers were being used all over the place and music studios started to become digital. There was less need for session musicians. The whole music scene was beginning to change and suddenly my phone stopped ringing."
With two young daughters, the homes, the cars and a wife, John had to take what work he could find. He landed a place in a rock/soul band called Jellyroll. "They were a B-level club band that had a horn section. So there I was at 33, working the Jersey shore circuit – places like Wildwood. It'd be 2:30 in the morning. I'm 120 miles away from home in a bar, playing with a bunch of drunken 21 year olds. It was really bad. My marriage was going to pot. So, I walked away from the music business."
Paint It Black
The next two decades were what John calls his dark period. "I didn't know what to do. Other than music, I was trained in nothing. I had a degree in English. That wasn't going to get me very far."
Let's pause here for a moment, though. Not playing trombone professionally was devastating to John. Yet, in walking away from music when he did, John may well have set in motion his eventual musical redemption, even though he never made it back to the trombone.
How did he do that? First, he charmed his way into a job for which he had no qualifications as a salesman for Digital Equipment Corp. How the worm had turned. "I'm walking into the office about six seeks later. I had on a brown suit, I had short hair, and I was carrying a briefcase. I saw my reflection in the glass door and could barely recognize myself. I wondered: 'who is that dork there.' It was me!"
John stayed with Digital for about nine years. "And every day, all I could think about was getting back into music." But he persisted in his musical abstinence, not even tooting for fun at home. "Ironically, the further I got away from the music, the harder it was to get back."
Still, John's self-imposed professional exile had its silver lining. At 42, he left Digital Equipment to become a Pennsylvania-based regional manager for Sunquest Information Systems. On his first day, John was at the company's Tucson head office. There he met future wife Susan. "What came out of that dark period was my finding the love of my life."
After eight years with Sunquest, a 50-year-old John decided to change careers. He had a great interest in veterinary medicine and a passion for dogs. Yet, John eventually realized that at his age, he wasn't going to make it into veterinary school, so he did the next best thing.
By then, he had earned himself a Masters degree in Organizational Behavior Management -whatever that is- from Temple University and later took 18 months of college science courses to prepare for the veterinary studies he never undertook.
The Dog Whisperer
So, nudged by Susan, John in 1987 set up a behavioral therapy practice for dogs, a new niche in animal care at the time. "I combined my knowledge of science and my degree in behaviorism, and we opened up Companion Dog Behavioral Center, which became very successful filling a need animal hospitals couldn't meet."
Companion Dog was set in a 3,500 square-foot converted barn in Skippack, PA.. It was a one-man operation supplemented with occasional staff. "We handled serious canine behavioral issues for clients of the animal hospitals." Professional tip: John says the bulk of dogs' non-medical behavioral problems tend to be caused by their owners. "People just need to treat their dogs as dogs and not as if they are humans."
Companion Dog ran from 1999 through 2015, by which time John was 65 years old and ready for a change. Toward the end, he and Susan had been living in Annapolis, MD., running the Pennsylvania business remotely. They also had become keen sailors and kept a boat in Annapolis harbor.
So you may be wondering why we earlier referred to John as a double bassist. Well, while in Annapolis, John and Susan regularly attended performances of the Naval Academy's concert band. "I would stand in the back so I could better hear the trombones. One day, I'm standing back there keying in on the bassist when I realized I couldn't let my music die. Something came over me when I heard the sound of the bass."
Shortly after that in 2014, John and Susan fled the Maryland winters and moved to Fort Myers, where, while still running Companion Dog, he started looking for a bass teacher. He eventually found Jay Heavilin, an actively performing jazz bassist and teacher in the Fort Myers area.
For some reason, John insisted on learning the electric bass. And after 10 months, he finally listened to his mentor and switched to the double bass. Once he developed some dexterity with the instrument, John bounced around for a year or so with some concert bands in the area, eventually hearing about and joining the Gulf Coast Symphony.
"When the conductor's baton came down to start my first rehearsal with the orchestra, I got this feeling that this was where I belong. This was home. It took me back to 62 years ago when I sat with my grandfather in those rehearsals and heard that big orchestra sound. Okay, we were not the Philadelphia orchestra, but there was that same feeling of childhood awe. That night when I got home, I couldn't sleep, I was so excited."
John still plays some jazz from time to time on the bass. But finding a home in the GCS brings forward, in John's modest way, the legacy of his grandfather, uncle and the family musicians before him.
Trombone, RIP.
By Art Mooradian