Singing It, Frankly
December 15, 2020
---
Brian Duprey was born in Woonsocket, R.I., once a landing point for French Canadians relocating in the United States. Though Brian's family didn't descend from due North. "Everybody thinks Duprey is French. It's actually Polish. They didn't know how to spell the name in English when my family came here. It was actually Dypry."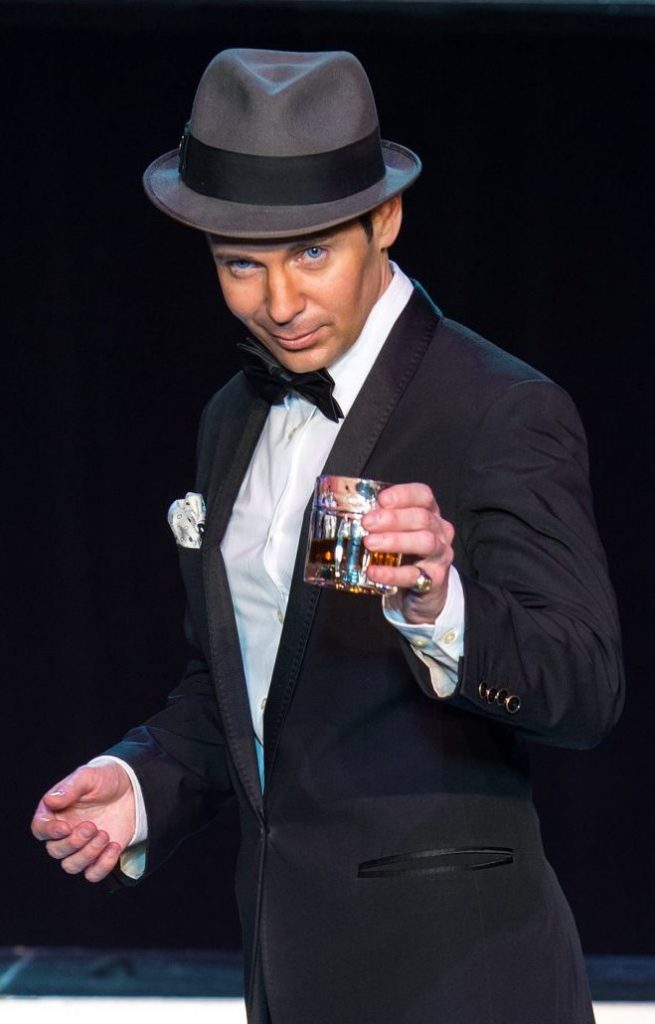 Brian didn't sing in public until his junior year in high-school, when he performed in a class variety show. "I used to imitate people's voices. That's where this whole impersonator thing got started. I would do some gags in my teachers' voices, and the students really loved it. I also began singing on stage."
In that variety show, he sang caricatures of B-52 songs, such as Love Shack. "I never thought at the time that I could actually sing. I just figured I could fake it and get by." You see, Brian didn't come from a musical family, though his mother sang some in a folk group.
Apart from high-school productions, Brian hadn't done much musically in his youth. He didn't play an instrument. Rather, he envisioned a career in business and went to Fairfield University in Connecticut to study international business and Japanese. But learning Japanese was too daunting, and he ended up majoring in just marketing.
Still, Brian took a stab at singing at Fairfield by joining the college jazz ensemble, which was under the direction of Brian Torff, a well known double bassist in the area. "I submit a recording of myself. He listens to it and says: 'Now I know what kind of songs you want to sing. But I want to hear your own voice.' On the demo tape, I was imitating Harry Connick Jr. singing A Wink and a Smile, and he thought it was Harry Connick Jr. singing!"
To this day, Brian professes he doesn't sport his own original singing voice. He's always cloaked himself in someone else's. Still, Brian made it into the jazz ensemble, singing a couple songs in its concerts. "Some songs were picked for me and others I picked. I even did You Can Call Me Al. I was singing like Paul Simon, too."
Brian says the best way to do someone's song is like the original artist. "I had a knack for sounding like other people, so I thought: 'Hey, if people really like a song, they might like to hear it like the original artist.'"
Although singing with the jazz ensemble during his final three years at college, business was Brian's primary concentration. In fact, he didn't take his singing beyond that group. "Singing was a side thing at the time."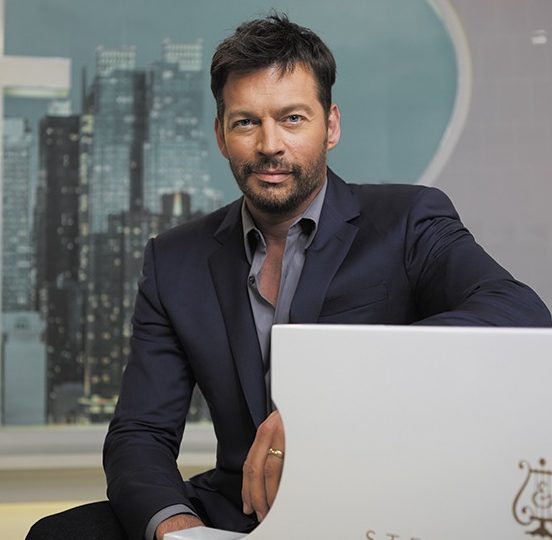 Yet crooning in the voice of others had taken a hold of Brian. "At that time, I was really into Harry Connick Jr., who as far as I knew was the only guy reviving old jazz standards, which I liked. I did sing a few other types of songs, but back then it was mainly the sound of Harry Connick."
It wasn't a big leap later from Connick to Ol' Blue Eyes, however. "If you're a baritone, as I am, Frank Sinatra, at the end of the day, is really The Voice in that genre. I learned how to sing through Frank and Connick. Early on, my singing was a blend of them. But over the years, I got away from Harry Connick Jr. as my voice started to deepen and sound more and more like Frank Sinatra."
This Can't Be Love
After graduating with his marketing degree, Brian was all about business. He found a marketing assistant's job with a small Woonsocket-based plastics company for about a year, before burrowing into the food industry, first for Nabisco and then for Hormel Foods. Hormel took him to Wisconsin. "Yeah, I sold Spam for a while."
Brian was about 24 when he started at Hormel, which eventually promoted and sent him to Chicago. Yet, he hadn't sung since leaving Fairfield University. "I just focused on my career." After about a year in the Windy City, Brian was recruited by pharmaceutical company Whitehall Robbins, which later became part of Pfizer, and he relocated to Cleveland, Ohio.
Moving around the country held an attraction for Brian, who was an only child from the nation's most physically confining state. "I wasn't really worldly and wanted to gain experience living in different places."
But slinging pills wasn't going to be Brian's endgame. The door to his eventual musical career opened a crack when he appeared on a syndicated TV talent show called "Dick Clark's 'Your Big Break.'" The show showcased contestants imitating celebrated singers. "That reignited in me the spark to sing again. I did Harry Connick Jr. singing It Had to Be You."
The show was taped in Los Angeles but sent a crew to film some footage of Brian and his day-to-day life in Cleveland. "I think it went well for me on the show. But I don't remember winning anything." Brian didn't meet Dick Clark, but says "Big Break" was filmed on the same lot as The Tonight Show, and he ended up meeting that show's host Jay Leno." That was around 1999. Brian has appeared variously on late-night TV since then.
With a televised performance in his pocket, Brian the foods marketer yearned for more of the footlights. He put together a demo mostly of Sinatra songs, though he added a country ditty in the style of Tim McGraw and sang a piece á la Chris Isaak. That tape won him a spot with a Cleveland-based wedding band, for which he worked for free, singing a few songs per appearance.
Now let's track back a bit. Brian caught the Sinatra bug when he was around 13 years old, singing along when his mother played some of the Crooner's songs at home. "Frank was always in my back pocket, and when the time came to go all-in on a singing career, there was no other choice for me."
Okay, forward to Cleveland. After his brief L.A. stint, things went well for Brian. He was a successful pharma salesman by day and wedding singer on the weekends. Yet in business, success often breeds a transfer. For Brian that meant moving to Madison, N.J. and Pfizer's corporate headquarters. It was a job called "category management," which Brian says was a hybrid of marketing and sales.
Frankie Meets the Sopranos
Jersey is a nice place to live — well, if you forget the taxes. In Brian's case, besides a good job, relocating there meant being closer to the world of "The Sopranos," a TV mob drama set in Northern New Jersey. "It was the height of the 'Sopranos,' and I was a huge fan. I went to all the Sopranos locations in the area." This was around the year 2000.
As luck would have it in 2007, Brian performed at a high-roller event at the Hard Rock Hotel and Casino in Hollywood, Fl., featuring 15 principal cast members of "The Sopranos." On stage, Brian sang Sinatra songs through the night. He says actors Stephen Van Zandt, Lorraine Bracco and Michael Imperioli cheered his performance. He impersonated "Paulie Walnuts" in front of Tony Sirico who portrayed that character.
Brian even joined cast members in the late James Gandolfini's hotel room later that night. "Tony Soprano made me a drink and toasted me. I felt like I was on set with the cast."
Also that year, Nancy Sinatra heard a recording of Brian singing Lady Is A Tramp on the Howard Stern radio show and thought it was her own dad singing. Brian says "2007 was probably the most exciting year of my career, a very good year."
Jersey also brought Brian closer to Frank. "Sinatra was from Hoboken. So, while I was concentrating on my job, I was also looking for big bands to sing with on the side. I would sing for free anywhere I could find a spot." New Jersey is home to scores of orchestras and bands of all ilks.
While in the Garden State, Brian took an early shot at the big time. "I auditioned for the Glenn Miller Orchestra. I thought I did pretty well, but the guy there said I sounded too much like Frank Sinatra and didn't hire me. It was the first time I had been rejected. It was a shock, but It taught me how to take rejection."
Now remember, Brian at that time was an untrained singer. He would go somewhere, belt out a few songs and then go back to the day job. But he wanted more. "I really wanted to take some vocal lessons and thought it made sense for me to go into New York City to take some."
Brian then found Carol Fredette, a jazz singer who taught in midtown Manhattan. "I made an appointment. She worked out of her apartment. So I go there, she opens the door, I walk in and scan the room. The place is like a shrine to Frank Sinatra. I thought: 'You're kidding me. If this wasn't what was meant to be, I don't know what was?'"
Carol Fredette idolized Sinatra, Brian says. "I told her I wanted to sing more like Frank than I already did." Well, it was then Sinatra 101. She went through almost every Sinatra song, explaining what he was doing and analyzing how Brian sang them. "It wasn't as if I was doing vocal exercises. It was more of my singing and her correcting what I was doing wrong."
Brian worked with Carol Fredette for about a year and a half. Then it happened again. He got an audition with an agent seeking a singer for an undisclosed independent jazz recording label. Well, luck was no lady that night, as Brian was told he sounded –you guessed it– too much like Sinatra.
Viva Las Vegas
Maybe a change in scenery was called for. "I started investigating working in Las Vegas because it was a place where Sinatra was king." In early 2002, Brian left New Jersey and his promising career at Pfizer and headed to Vegas to take his shot as a Sinatra impersonator. "I felt I could have some success there, based on my ability to sound like Sinatra. I thought I could even make myself look like him if I wanted." Up until then and for some time after, Brian only sang like Sinatra and hadn't tried appearing as the Man.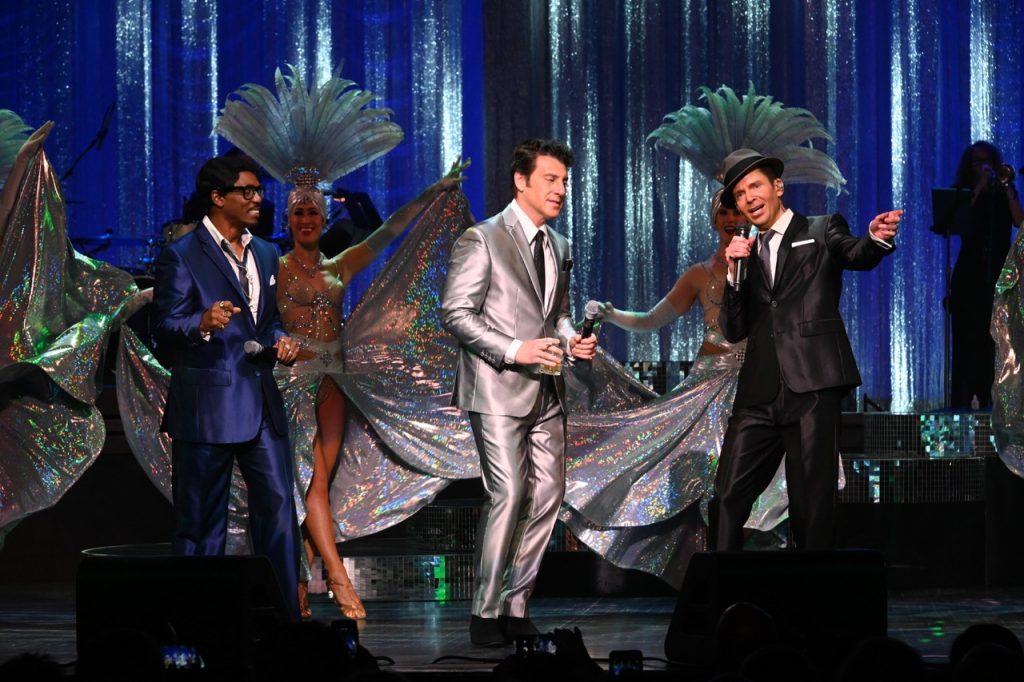 Brian landed in Las Vegas prepared. "I knew an agent there who got me my first paying gig. It was for three or four months in the main lounge at Ceasar's Palace. It was me alone with a piano player, and I was finally getting paid well to sing."
After his run at Caesar's, Brian was back to being unemployed. So he returned to Woonsocket and Mom to work out his next moves. That was 2002.
Later that year Brian found Legends in Concert, a producer of extravagant live musical revues around the country, featuring impersonators of famous acts. 
Brian was hired for a short run at a Legends production in King of Prussia, PA, at a venue called Lily Langtry's. "They only gave us 15 minutes to perform, so you really had to come out guns blazing."
Brian recounts with some bemusement how behind him on stage at Langtry's was a purpose-built small indoor ice-skating rink where skaters performed as part of the show during his set. "It was so cold on stage, that I felt as if I was Frank Sinatra come back from the dead." Yet during that run in King of Prussia, Brian started working on looking and acting like Sinatra on stage.
The next year, Legends offered him a stint in a revue at the Imperial Palace Casino in Las Vegas. "That was my first official start of playing Frank Sinatra, full-bore, in Las Vegas — singing and appearing as him."
Those three- or four-month Legends runs were punctuated with down periods that could last months. At one point, Brian had second thoughts about continuing as an entertainer and going back to marketing, though he ultimately dropped that idea.
For the next two years, Brian worked impersonator shows around the country for Legends and others. He eventually returned to Vegas and came across a tribute show built around Sinatra and his show-biz pals Sammy Davis Jr., Dean Martin, Joey Bishop and Peter Lawford — the so-called Rat Pack.
"It was a show called 'The Rat Pack is Back,' and I had seen it in the late 1990s. They had scripted lines and sang. I auditioned for the show and they said they really liked me. But they said I was too young and didn't fit in with the other cast members, who were older."
About a year later, the Rat Pack show launched a separate revue in San Francisco and hired Brian for that venture. And shortly after that, Brian was sent back to the Vegas production when a Sinatra role opened up there. "I had to appear as a much-older Sinatra than my actual age. I had to make myself look older through makeup."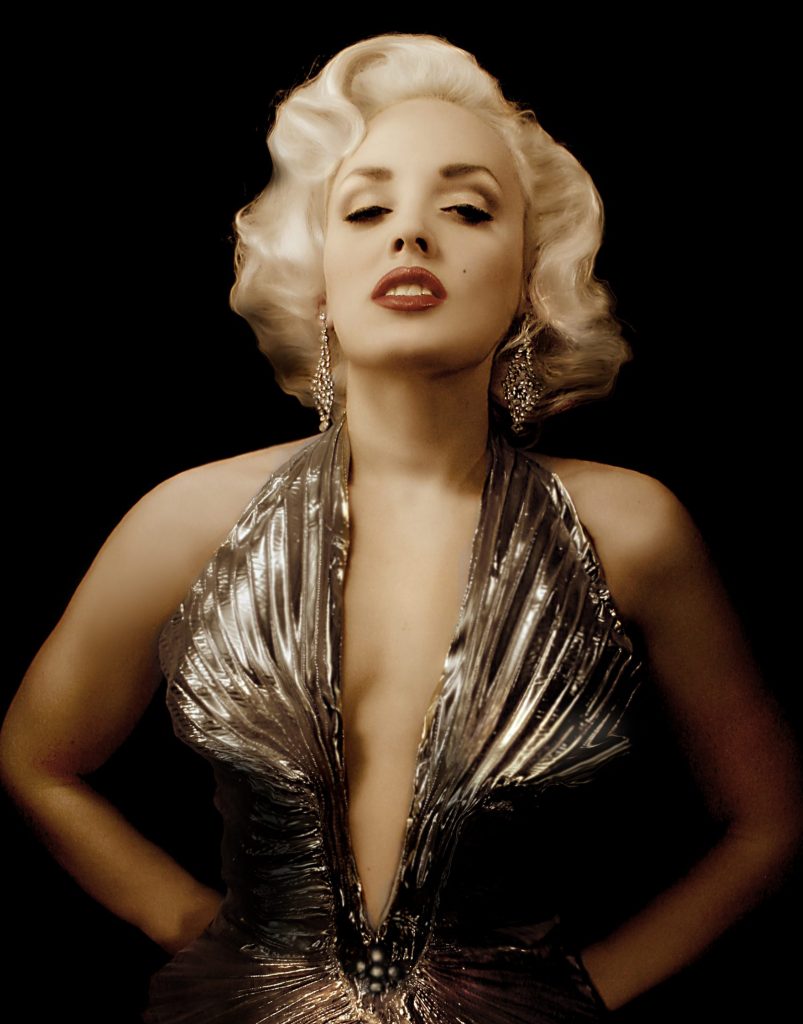 That gig turned into a full-time job starting in 2006. Brian was in his early 30s at that time and stayed with "The Rat Pack is Back" until 2014. "We did the same exact show every night. And when I wasn't working nightly in Vegas, I worked in the national touring version." Still, the grind wore on Brian, and then fate intervened.
In late 2014, the Rat Pack actors got word the production was to cease for a while. So a jobless Brian opted to start-up a solo career as a Sinatra impersonator. "Luckily, it was Frank's 100th birthday celebration in 2015, and I was able to get some work doing solo tribute shows and corporate events around the country." Sinatra died in 1998 at age 83.
I Hear a Symphony
Now, here's where the Gulf Coast Symphony comes in. Brian had commissioned some orchestrated music charts so he could start performing with symphonies. "Sinatra was known for having these lush beautiful arrangements with strings and horns. I can see how his music suits a symphony show so well."
And in 2016, he gave his first orchestral performance. It was in Niceville, FL, with the Northwest Florida Symphony Orchestra. "Just to get that first gig was significant because it's such a niche industry to get into that you have to build a base."
The move worked, and symphony gigs have become Brian's bread and butter, though he also produces his own Rat Pack shows around the country, together with wife Jami, who is a Marilyn Monroe impersonator.
Brian and Jami met in the Vegas "Rat Pack is Back" show. Monroe was a friend of the original Rat Pack. Rumor has it Frank Sinatra asked Marilyn to marry him shortly before she died. Ironically, Brian met and married Jami in 2014.
Brian's last stage show before COVID put a halt to live productions was his own Rat Pack run at the Tropicana in Atlantic City. He was also in touch with talent agencies and producers about future work. "In the six months before the pandemic, things were starting to really click."
The December 19 Sinatra Christmas show in Fort Myers with the Gulf Coast Symphony will be Brian's first stage work since March. In the meantime, he has been exercising his voice and sizing up potential opportunities.
So what's it like projecting an alternative persona? "When I'm on stage, I become Frank. But as soon as the performance is over, I'm back to being myself. Still, Frank's always a part of my life. We have so many similarities: We're both Sagittarius. We're both only-children. We're the same height, with the same-size feet and hands. He has blue eyes, and I have blue contacts."
Well, it seems that for Brian it's all or nothing at all.
By Art Mooradian