A Wise Violinist Does Not Lose Her Way
January 22, 2021
Violinist Reiko Niiya, a longtime performer in Southwest Florida, and her chamber ensemble 'Reiko and Friends' perform at the Gulf Coast Symphony's Music and Arts Community Center in Fort Myers on Sunday, Jan. 24.
Here's her story: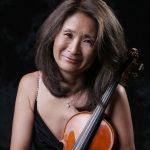 Many people believe we are fated to become what we eventually become. In Reiko Niiya's case, the instrument of fate was the combined will of her mother and aunt, who decided early on that the child would grow up to be a fine violinist.
Reiko was born in Tokyo to a family of musicians. So the odds of her maintaining that family tradition were quite short. Both her mother's and father's respective families were musical, particularly on her mother's side, Reiko says. Her mom was a piano teacher, though also trained as a violinist. Her mother's oldest sister was a concert pianist and the second-oldest was a professional violinist. Both of Reiko's sisters played piano.
"My mother and aunt — I don't think my father had much to say about it — decided from the beginning that I would be a violinist. On my mother's side of the family, girls were supposed to play either the piano or the violin."
It wasn't long until Reiko got into the act. "I started violin with my aunt, a well known violin teacher –Taeko Yamauchi– when I was five years old and studied with her until I was 23."
Although Reiko started violin while in kindergarten, around the age many professional violinists pick up the fiddle, she didn't start playing in ensembles until junior high. That's because there were no ensembles, let alone organized instrumental instruction at that time in Japanese elementary schools. Though, one could learn the recorder. "The recorder is really very popular in Japan," she says.
Growing up a violin player in Japan seems to require some patience before one can really test her bounds. Reiko's junior high also didn't have a string ensemble of any sort. So, she had to join the band. She got assigned the clarinet, as there aren't violins in a concert band.
But in the world of musical winds, Reiko was a tree with shallow roots. "I was horrible at the clarinet. I just couldn't make a decent sound, and I kept breaking reeds. I could read the music, but I couldn't play it. I was eventually dismissed from the band, which was all right with me since I was miserable playing there."
The Gang's All Here
Okay, back to the lifeline: Reiko grew up in a 22-room house that hosted her multi-generational family. A mansion of that size was unique in early post-war Japan, Reiko says. "It was my grandmother's house, and she didn't want any of her children to leave the fold. At one point, we had 16 people spread among five families living there. We had a cook and other house workers, so life wasn't too hard. But I was required by my strict grandmother to clean one of the toilets every morning before breakfast. I did it so diligently because she said that the cleaner I made the toilet, the prettier I would become."
Of course, there were other tasks at hand, namely the violin. "I was told that 'you are going to this school, then to that school and then to America to study violin.' When I was five, my whole life was planned for me."
Keeping with the plan, Reiko enrolled in music school for her high-school years. That school was preparatory adjunct of the Tokyo National University of Fine Arts and Music, the college she later would attend. Getting in was highly competitive, Reiko says, and she played with the first violins throughout her time there, in addition to performing the Wisniewski Violin Concerto.
Of course, when musical instruction in school gets serious, it could get awkward when a professional violinist is also teaching you at home. "From an age of 16 to 23, I had two different teachers at the same time — my aunt at home and my teacher at school. One would tell me to do something one way and the other would want something different. The good thing was that I ended up learning at least two ways to play something."
Outside of high school, Reiko performed in recitals organized by her teacher/aunt. For sure, her aunt was a driving force in Reiko's development. "Oh, she was a drill sergeant. She was so tough with me. Mind you, she was lenient with everybody else. I don't know whether I was born competitive and masochistic as a musician, or whether she drilled those qualities into me. But that discipline was what I needed. My aunt said she was tough on me because if she wasn't, I wouldn't practice."
Well, practice Reiko did. She says that in grade school she practiced about 1 ½ hours a day, increasing to 2-2 ½ hours in junior high. In high school, that load went to a minimum three hours a weekday and four or five hours daily on the weekends. Of course, that regimen didn't leave Reiko much time for having fun with her friends.
In-di-an-a Here She Comes 
After graduating from Tokyo National University of Fine Arts and Music, Reiko moved on to the next step in The Plan — study violin in the U.S. a couple years. "One of my aunt's students, who has played for years in the Boston Symphony, had studied back then in Italy with the Italian violinist Franco Gulli. She was 12 years older than me, and I had heard much about her when I was young. So, when she sang Franco Gulli's praises, I felt I just had to study with him."
While finishing up her Bachelor's degree in music in her senior year at university in Tokyo, Reiko made an audition tape, sent it off to Franco Gulli, who at the time was teaching at Indiana University. It worked: She got accepted into the Artist Diploma program in violin. Indiana was and is one of the top music schools in the nation.
"But when I got there, my English was so poor that Mr. Gulli suggested I wait a year and get my English up to speed." That made sense to Reiko, who stayed on in Bloomington as a non-degree student studying with Franco Gulli and performing in the school's chamber music groups and orchestra.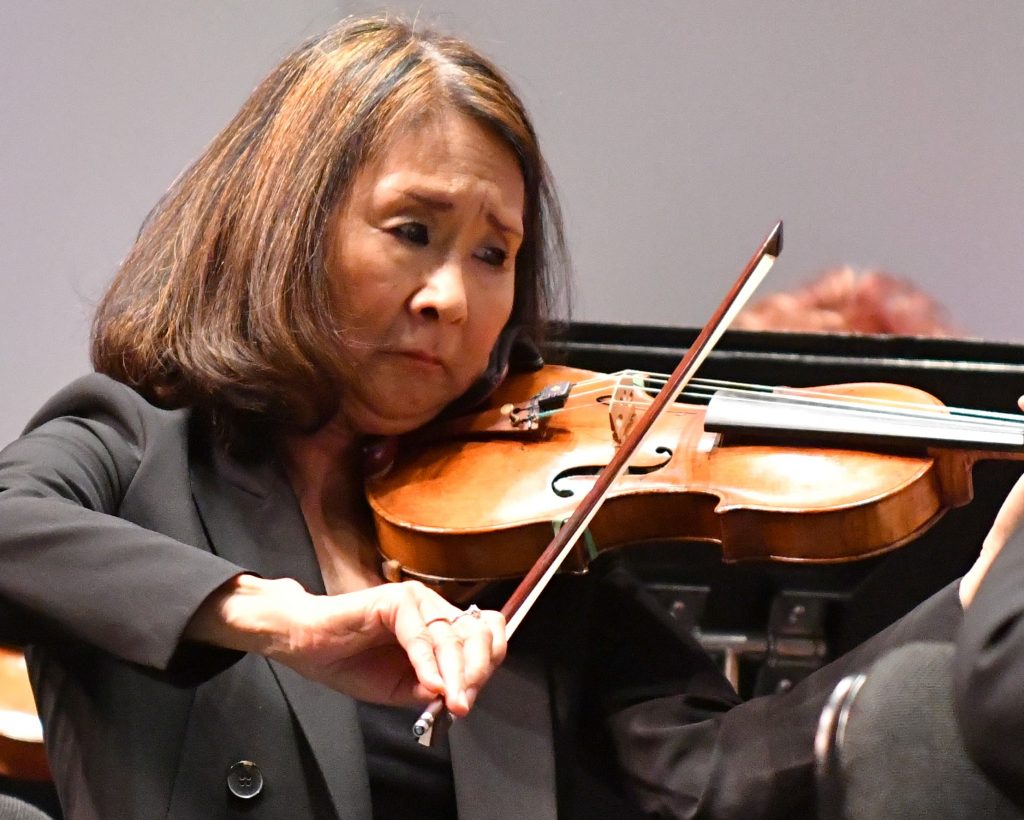 Reiko says that in Japan, students must study English — three years in junior high, each year in high school and two years in college. "But they don't teach you anything conversational. They taught us grammar and such, but if you don't learn conversational English, you can't really get by. I used to avoid running into anyone I knew because I wouldn't be able to understand them. American kids speak so casually and fast. I would just get lost."
Poor English notwithstanding, Reiko studied three years with Franco Gulli at Indiana. While there, she would take on paying gigs from time to time. She once played with Henry Mancini's orchestra, though she says she didn't know the significance of Mancini. He was just that grouchy old conductor of the orchestra. "I was just happy I had the gig."
But apart from a job here and there, she didn't do much outside gigging, in part because it was frowned upon by her family. I concentrated mostly on playing the violin. I practiced 10 hours a day, since I didn't have to take any classes.
After two years with Franco Gulli, Reiko's parent's, who funded her violin studies, recalled her home. But Reiko talked them into letting her stay for one final year.
And as that third year drew to a close, Reiko broke with the family's plan for her, which had been to return home, get married and raise her own brood. "Before I came to the U.S., that's what I thought I would do. But then I thought: Why should I go back home and have some matchmaker find me a wealthy guy and become a housewife? I had spent 20 years practicing the violin. To give it up and follow that preordained path to matrimony that my cousins did made no sense."
She Hears a Symphony
Reiko steeled herself and called home to argue her case. To her surprise, her mother agreed and suggested she find work as a violinist in America. "It turned out my mother had a liberal attitude."
Armed with mom's blessing and her 27 years of age, Reiko sallied into the world of professional musicianship. Not really coached to audition for a major orchestra, Reiko nonetheless took her first shot with the middle-market Milwaukee orchestra. "I failed miserably."
Her second shot came in Chicago for a touring orchestra from Venezuela that was called the International Orchestra of Maracaibo, which was conducted by Eduardo Rahn. She got hired as a first violin. Okay. Venezuela, you ask? Well, remember that was in 1980, when that country was politically stable and rolling in petrodollars.
Reiko played with that orchestra for 21 months, loathing every minute of the non-musical life in Maracaibo, where the orchestra played three or four concerts a week. "I didn't walk around town at all. I would go from my apartment to the concert hall and from the concert hall back to my apartment. I was one of the few Asian women in town, and I would get catcalls from the men on the street. And the city was run-down and dirty. It was so gross. I had to get out."
Oh yes, she didn't speak Spanish. And there was that one time when she had a memory lapse while playing the Tchaikovsky violin concerto to a packed house. "I laugh about that now. But back then ….
Reiko says the orchestra in Maracaibo was mostly staffed with U.S. nationals, with some Europeans. It paid well, and she played fifth chair among the first violins. Still, just short of her two-year anniversary, Reiko returned to the U.S., though with one of the orchestra's cellists, an Iowan, in tow.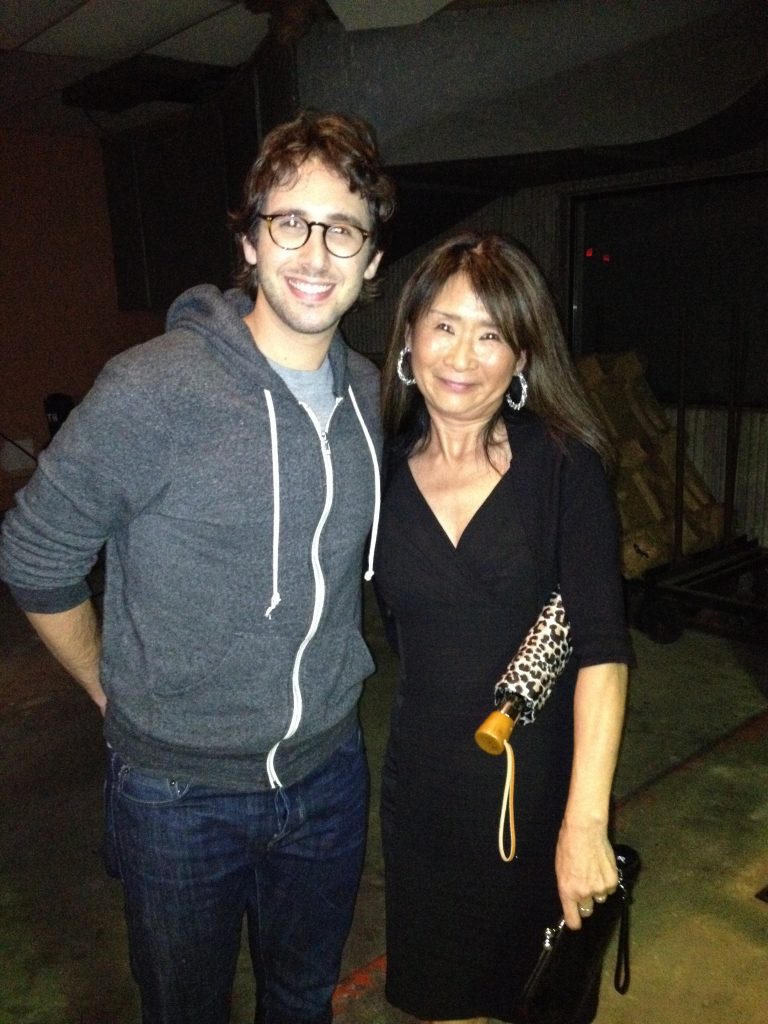 Half a year later, Reiko married that man –the late Timothy Tigess,– and as fate would have it, Fort Myers loomed heavy on her horizon.
Timothy's father had years earlier been manager of the Fort Myers Symphony, the mostly amateur forerunner of today's Southwest Florida Symphony Orchestra. The orchestra's founding conductor Arlo Diebler, had called Timothy's father to see if he would return from Iowa to manage the orchestra again. The father turned him down, but mentioned that his son had just returned from a stint with a Venezuelan orchestra and was looking for work.
As luck would have it, the SWFSO had a paid position open for a principal cello, in addition to that of general manager. Timothy got both. Then Reiko got hired as the orchestra's paid concertmaster, a post she held until her retirement last year. And both were also installed in the orchestra's actively performing resident string quartet. That was 1982. Welcome to Florida!
Six years later, husband Timothy got a job as one of three cellos in the U.S. Air Force Concert Band. Yes, cellos in the concert band. Reiko tagged along, though she continued playing with the SWFSO, commuting during its six-month concert season and retaining her role as concertmaster. "For 11 years, I flew back and forth from Washington D.C. for concerts and missed only one."  
During her time in Washington, Reiko was really active. Not only did she commute to Fort Myers for concerts, but she also bore and raised a son, was concertmaster in five orchestras in the Washington area. Reiko says she also played freelance gigs with orchestras backing up touring A-list entertainers, such as Johnny Mathis, Josh Groban, Nathalie Cole, Michael Jackson. And she performed in HBO's Whitney Houston special. "I'm a real groupie. Every time I do a concert with a celebrity, that's a highlight of my life."
Deep Down in Florida
By the year 2000, Reiko and Timothy had divorced, and she decided to relocate back to the Fort Myers area, where she then married a former violin student and medical doctor — Kai-Fu Chow. In addition to leading the violin section of the SWFSO, Reiko performed with other Florida orchestras, such as the Palm Beach Symphony prior to her move to Washington and later the Sarasota Orchestra –formerly the West Coast Symphony — and the Port Charlotte Symphony, which is now the Punta Gorda Symphony.
She also has for years had a stable of private violin students, a total that peaked at 22 at one point, but is down to a more manageable six at present. During that time, she has taught a number of violinists in the Gulf Coast Symphony. Reiko also has been teaching violin at the Florida Southwestern State College and its predecessor Edison Community College since 1982, though with a 11-year break during her Washington D.C. sojourn.
When the COVID 19 pandemic struck the U.S., sidelining orchestras and musical performers for most of 2020 into the current year, Reiko found herself stranded at home, with no immediate prospects for work. "I was very busy binge watching TV. But then I started seeing clips of musical groups doing virtual and socially distanced performances. That gave me an idea."
Meanwhile, the Southwest Florida Symphony, like so many others, was hibernating. "So by the end of last August, I decided I couldn't wait any longer to get back to playing and performing. I said: 'Okay, I'm going to start my own group.' And my husband, who is helping us financially, said, 'Okay, do it."
And thus Reiko and Friends, an ensemble of principal players from the SWFSO, was born. The group consists of nine players performing an array of chamber music. It has given a number of performances in the area since getting underway last November and will perform at the Gulf Coast Symphony's Music and Arts Community Center on Sunday, January 24. More appearances are set for various venues for February and beyond.
Still, running even a small ensemble is a lot of work, Reiko says. There's finding venues and setting concert dates, putting together the music and assembling the players.
But it's all about the thrill. And for Reiko, the thrill ain't gone.
By Art Mooradian