Jazz Messenger
March 10, 2021
Drummer Paul Gavin is Director of the freshly minted Gulf Coast Jazz Collective that is performing regularly at the Gulf Coast Symphony's Music and Arts Community Center. Here is his story: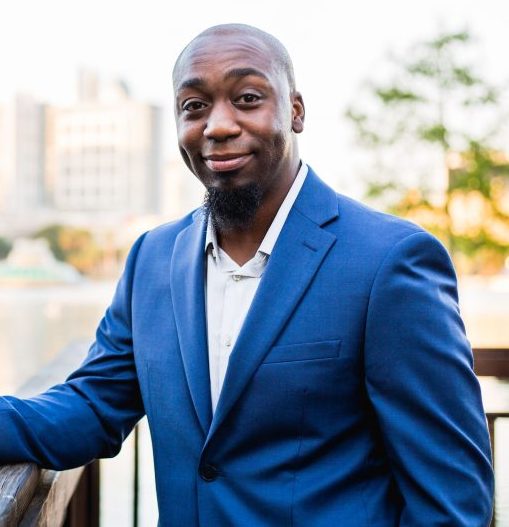 Paul Gavin was born in Fort Myers and grew up on Sanibel Island, where his dad Oscar runs Gavin Plumbing.
Unlike with other top musicians, Paul's family isn't musical. "The family sings in church, but it isn't innately musical at all. Of the little bit of musical talent I had as a child, none of it came from my genes. In fact, I had absolutely no affinity for music when I was in elementary school. That didn't come until I was 10 or 11 years old, when my mom put me in an exploratory arts camp run by the Music Foundation of Southwest Florida. "
Exploratory arts camp was a place where one did some dance, visual art, singing and instrumental playing. "While I was there, I took to the oboe. That was my first musical instrument. That's a plot twist in the life of a professional drummer, right? No one expects that one."
Paul could play the oboe well, taking lessons from one of Southwest Florida's well-known oboists and teachers, Ruth Christman, who is executive director of the Music Foundation of Southwest Florida. Paul also is drummer for Ruth's husband Craig's Stardust Memories Big Band.
Although Paul started out on the oboe, the instrument didn't long hold his affections. "The whole time I was in middle school band class playing oboe, I was looking back at the percussionists, jealous and thinking: 'I can do that, and it looks like fun." So in seventh grade, Paul veered off into the percussion world. 
Paul played both oboe and percussion into his first two years at Cypress Lake High School in Fort Myers. (No, there were no middle or high schools on Sanibel then, and still no high school today.) "Then in my junior year, I stopped the oboe and stuck just with percussion. It was in that year that I also picked up the drum set. Up until that point I had been doing just band and orchestra percussion."
Now, there isn't a standard configuration for a drum set, or 'drum kit.' At its most populated, the arrangement might include a couple high tom toms, a floor tom, maybe some mid and low toms and certainly a bass drum and a snare. Oh, and then you might add a hi-hat, ride and crash symbols and other accoutrements. Listen to Gene Kruppa solo in the Benny Goodman classic 1938 Carnegie Hall version of Sing Sing Sing. The cowbell rules.
Okay. Back to Paul and his interlude with orchestral percussion. "I rarely perform in that way anymore, but I still enjoy playing around with orchestral percussion instruments. Even on drums, there's something about playing with an orchestra, using those skills I had learned early on, such as following a conductor, blending with a big group, following the musical notation, playing the dynamics and sight reading." Paul plays jazz, rock and show drums in orchestral pop concerts in the area. He performs often with the Gulf Coast Symphony.
A Lot of This and a Lot of That
That versatility perhaps dates back to his teen years. "In junior and senior year in high school, I played in almost every school musical group you could be in, except the choir." He played percussion in the school orchestra as well as in the Southwest Florida Symphony's youth orchestra. "I was in the wind ensemble; I was in the marching band; I taught the Cypress Lake Middle School's steel-drum group for two years; I was also in the Edison College orchestra as a high schooler." Edison is now known as Florida Southwestern State College.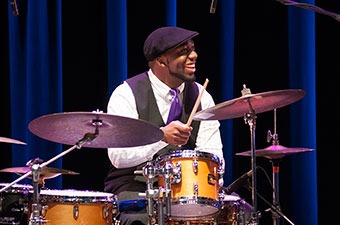 "All I wanted to do was music, and my parents were incredibly supportive. They drove me to those rehearsals and events in Fort Myers. And remember, we still lived out on Sanibel. They put up with my drumming at home. I'll tell you, I've learned that people are willing to pay very well if you can play drums quietly. But that wasn't my concern in high school."
After graduation from Cypress Lake, Paul enrolled in the musical program at University of South Florida, in Tampa, the city in which he resides today. "My percussion teacher Todd Betts recommended that I go there. It was his alma mater. He was the principal percussionist in the Southwest Florida Symphony."
In his first year at USF, Paul majored in orchestral percussion and performed with the marching band. "I really enjoyed that, but all that time I was really wanting to play drum set instead."
Through his musical development, Paul was at one point or another told where the real money and musical legitimacy stood, be that the oboe or playing orchestral percussion. "But in my junior year at USF, I realized I didn't really care about 'legitimacy.' I just want to play the instrument that resonates within my soul."
So that year, he stopped majoring in Orchestral Percussion. Paul had thought there was the possibility he would want to be a band director, so he switched majors. Orchestral percussion was still Paul's instrument, but his degree track changed to Music Education.
Junior year at USF was formative for Paul, as he developed teaching skills he uses today. Among his many gigs nowadays, Paul teaches percussion at Sickles High School, in Tampa. That's been going for the past 10 years.
But the discussion about musical legitimacy tugged hard at Paul back in his college days. "We in the West tend to think that certain forms of music are more legitimate, or more "art" than others. Music of other peoples around the world is often treated as a lesser art and less legitimate. This is also true with modern music like pop and hip hop. I had a professor at USF, David Williams, who freed me from that kind of thinking. He said all art is legitimate in it's own way and deserves appreciation within its own context."
Doubling Down on the  Jazz
At the onset of his twenties and despite that eye-opening junior year at USF, Paul was restless, still trying to divine his musical future. "I decided I didn't want to do Music Ed. either. So, for my fourth and fifth years in college — I did five years — I majored in Jazz Studies. I only played the drum set –no orchestra percussion– and loved it. I finally had found my home."
In his final year at USF, Paul studied jazz drums with Ric Craig. "He changed my life. Up till then, I had felt restrained. I had always wanted to play the drums, but my mentors pointed me toward what they thought I should play — that whole legitimacy thing. Well, Ric didn't do that. He would say: 'okay what are you interested in? Here's how you accomplish that.'"
Earlier, Paul's orchestral percussion professor Bob McCormick had strongly influenced him. "He taught me a lot about how to think about music, and he had a lot of different ways to think about it."
Meantime, during those last two years at USF, Paul had started some serious gigging outside his school studies. "In those years, I played several gigs around town. I played gigs on the drum set with the Southwest Florida Symphony and the Gulf Coast Symphony. I would get up at 5 am, get to school by 5:30/6:00 am to practice. Then I'd go through my day's classes, which would be over by 3 or 4 pm, and I would then get ready to play at Busch Gardens."
Yep, Paul said Busch Gardens. He performed there for five seasons with a group called the Hammerhead Steel Drums. "We were a contractor Busch Gardens hired to do all kinds of percussion music. We did steel drums and other kinds of street percussion, kind of like Stomp Out Loud, which entailed percussionists playing on various household implements."
When he left Busch Gardens, Paul joined Giving Tree Music, a group that facilitates interactive drum circles with after-school programs, conferences, special needs groups, corporate events, senior facilities and the such. He's still working with Giving Tree Music. "In a drum circle we play a little drums together and make a little music. It's a real cool thing."
Okay, let's ask it now: "Paul, what drummers have inspired you?" And of course, he answers: "Lots of drummers." He cites modern players such as Nate Smith, Tommy Igoe and Gavin Harrison. Then there are the slightly less modern drummers Bernard Purdie, Steve Gadd and Buddy Rich. And then, he says, there's the old school — Papa Joe Jones, Philly Joe Jones, Max Roach, Art Blakey, Elvin Jones and Tony Williams.
"My parents were always playing recorded music in the house. My mom was playing smooth jazz. My dad was playing the blues and the music of James Brown and others. Growing up, I heard lots of incredible drummers. I can't name all them, though I remember Jeff Porcaro, Clyde Stubblefield and Jabo Starks.Those were famous drummers who revolutionized drumming. But I didn't really get interested in particular drummers until I got into college."
Did Paul concentrate his own style on one or more of those greats? "I guess I have my own drumming style. I never have concentrated on creating my own style. That's something musicians talk about a lot. I've just wanted to collect cool things from everywhere. And that inherently forces you to have your own style. And yeah, I do feel I play differently from other people. But I'm not really trying to play differently."
Killing It Softly
One of Paul's fortes as a drummer may well be playing piano. "I think playing quietly is something I do well that a lot of other drummers don't do well. You've got to be able to play dynamics. You've got to be able to whisper and scream and continue to expand both those limits as far as you can. You need to do that while playing perfectly musically and serving the needs of the music."
We might wonder whether at age 29, Paul has found his life's groove, with a mix of gigging, teaching — and composing. "Yes, this is exactly what I want. I just want to continue doing what I'm doing on a higher level. It's just perfect." And he is committed to living and working in Florida.
Toward that end, Paul leads a couple of groups in and around Tampa. "I have a quartet of my own that plays my original music. It's called the Vanguard." Paul says his compositions are modern, with more jazz sensibilities, fused with some funk, hip hop and lots of world influences. "You'll hear a little taste of everything if you come to a concert of my music," Paul says. Did you hear that Professor Williams?
Paul also leads a sextet called Mosaic that plays in the style of Hard Bop, which is an offspring of the 1950s Bebop of Charlie Parker and Dizzy Gillespie. Hard Bop incorporates elements of gospel, soul, funk and rhythm and blues. "It's real swinging stuff, very much jazz. But the chord progressions are so relatable. The style was popularized by Horace Silver, Art Blakey and Hank Jones — oh yeah, Hank Jones."
Paul also drums regularly for Gloria West and the Gents. "Gloria does a lot of old-style jazz and is an incredible singer. She never sings out of tune and sings perfect interpretations."
So why are we writing about Paul Gavin? Well, for one thing, Paul has played from time to time with the Gulf Coast Symphony for several years now. In fact, he has put together a band to perform a series of jazz concerts at the GCS's new Music and Arts Community Center. The Symphony's freshly minted Gulf Coast Jazz Collective will feature a rotating group of performers, playing a varied repertoire of the music of some of the most important musicians in the history of jazz.
"I'm looking forward to leading those groups. We're going to do some sweet concerts. I'm hoping to expose the Gulf Coast Symphony's audience to all my awesome jazz musician friends. My intention is to play real jazz and blow people out of their seats."
Paul's group played a Louis Armstrong-themed concert to a full house on Feb. 20 at the MACC. That will be followed by a concert of the music of Herbie Hancock and Chick Corea on March 13. After that, there is a Pat Metheny concert on April 24 and a concert with the music of Florida natives Cannonball and Nat Adderly on May 15.
The Gulf Coast Jazz Collective consists of a core trio of Paul and long-time area jazzmen bassist Brandon Robinson and pianist Stu Shelton. The make-up of the rest of the group will change from concert to concert, Paul says.
The plan is for Paul to take the Gulf Coast Jazz Collective concerts to an even bigger and higher plane hopefully next year, once COVID-19 restrictions are lifted. "These are not going to be concerts where someone tells a well-behaved audience kindly to sit still and turn off their cell phones. That's not what I'm looking for. These concerts are going to be a party."
And all that jazz!
By Art Mooradian