Piano Man
March 30, 2022
Award-winning concert pianist Brian Lin joins the Gulf Coast Symphony for a concerto by Mozart, 14 years after performing with us as a 16-year-old keyboard phenom
---
Brian Yuebing Lin was born in Wuhan, China, though about a month after his birth, the family moved to the city of Shenzhen, where Brian grew up and where he began piano studies at the age of four.
"My dad was an amateur musician and played wind instruments, such as the saxophone and clarinet. He really loved classical music and could listen to it all day. So it was natural for him to want his son to enjoy and play music as well."
Brian says the earliest photos of him sitting at a piano show him at one or two years of age, portending a relationship that has become the crux of his life. "I think at that point I was showing some interest in the keyboard. And that's why my parents thought that maybe later on I would be good at it."
So, a couple years later, Brian undertook his first music lessons from what were to be several teachers. His first instructor was Walter Gui, a private tutor in Shenzhen. He studied with Mr. Gui for about two or three years, though over time, Brian switched teachers relatively often – every three years, he says. "My parents always sought different teachers for me to try and find teachers that best fit my style."
By then, Brian's dad, who as a hobby played in some bands in bars and other public places in China, had quit his sales job at an electronics company and worked full time on developing Brian's talent and prospects. Meanwhile, Brian's banker mom became the family's breadwinner. Brian says such arrangements are common in Chinese families with artistically gifted children: One parent stays home with the aspiring performer, while the other supports the family financially.
The teacher who had the biggest impact on him during those formative years arrived on the scene when he was about 12 years old. Her name was Eleanor Wong, a renowned pianist and teacher in Hong Kong.
Brian says that back then, depending upon mode of transportation, it could take three to four hours to travel door to door from Shenzhen to Hong Kong. That's a long trip for weekly music lessons for a 12 year old. But that didn't stop Brian's parents from finding him the best teachers. "My father and I would travel to Hong Kong first by bus or car to the train station, then by train to a ferry that would take us from the mainland to Hong Kong. We would go to (Ms. Wong's) studio for a two-hour lesson and then go home."
Eleanor Wong showed him the importance of proactively listening while playing, Brian says. "Most pianists around me at that age had relatively good technique but didn't listen closely to themselves while playing. She showed me ways to make music sound better, but also helped me understand the choices I make when performing. She fundamentally changed the way I thought about music. That was the building block of what became my playing style today. "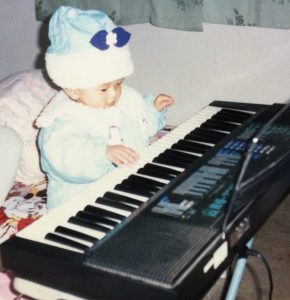 Brian had started performing publicly not long after starting up on the piano. "I began competing when I was around six to seven years old. I was performing in competitions in China and was starting to win prizes."
So, by the time he was 15, Brian had become quite adept at competitions. "They were fun, partly because I was winning prizes, but also because of the thrill of performing for audiences."
Brian says his piano study was a central point in his family's plans for its future. "I think whenever there was an opportunity for me somewhere, we would move there. When I was nine years old, I enrolled in a music school called Shenzhen Art School. So we moved to a place that's within walking-distance to the school."
Deep in the Heart of Texas
His big move, musically and geographically, came when Brian was 15 and performing at the Beijing International Piano Festival. It was there that he met the artistic director of the festival, Tamás Ungár, an internationally regarded pianist and music professor at Texas Christian University.
"I went to that piano festival, and of all the participants, I think he liked me the most. His assistant invited my dad and me to a meal during which she asked if I'd be interested in coming to the United States to study with Dr. Ungár. It was an offer I couldn't refuse. In effect, they offered me two scholarships – one to study piano with Dr. Ungár and another to attend the Trinity Valley School."
Brian has financed his studies from early on through scholarships, as there was just one source of income in the family. "My mom was not making a lot of money, and my dad had quit his job to supervise my studies. So, I needed financial aid. Everywhere I went, I had to get scholarships."
So, at 15 years old, Brian packed up his childhood and belongings and headed off to Fort Worth, Texas. And you guessed it: His dad went along with him, while his mom stayed behind in China to continue working at the bank to support the family.
But there were some hurdles to acclimatizing to life in the U.S.: "English was a big barrier. It was hard. And the culture shock was real too, with my moving from a huge Chinese city to a small one in Texas with very few Asians. Those were big obstacles for me to overcome." Well, you wouldn't realize that talking with the 30-year-old Brian today.
Just before moving to study with Tamás Ungár, Brian in 2007 entered and won the prestigious Virginia Waring International Piano Competition. He has actively competed in international competitions since that time, winning an impressive array of awards. (Click here to visit Brian's website)
"I've done several competitions a year. I don't really remember the names of all the competitions. I would routinely win prizes. And Dr. Ungár was so nice to me. For example, he once drove me five hours to do a competition."
Yet, not long after arriving in Texas, Brian had already started considering his future. "Every time you jump a level in school, like when you go from elementary to middle school, or from middle school to high school, or high school to college, you start thinking about your next steps."
And that next step was to be toward the Juilliard School in New York City, where Brian would study piano with Matti Raekallio. "That period was quite an experience. In some ways, it was another cultural shift. I was just starting to adapt to the Texan country lifestyle, in which everything was slow-paced and quiet. Then when I moved to New York, things became fast-paced again, and I didn't seem to have much time to stop and think about what I was doing."
And what was it like for Brian to dive into such a competitive environment as Julliard? "The competitiveness wasn't so surprising to me. But having been one of the best at piano since I was a child, I put a lot of pressure on myself to become one of the best at Juilliard, too."
One of the best ways to get ahead of the crowd is through playing in competitions, and that's what Brian did. "Competitions give you performance opportunities, but they can also be limiting. Often, you're not really free to do what you want with the music because you can't take creative risks in music competitions. "
Don't Roll Over Beethoven
Brian enjoys playing all kinds of music, but his heart is nestled in the Romantic period. "I have great technique, and I'm very expressive. I have a lot of thoughts and opinions that need to be expressed through music. And the romantic period's repertoire kind of shifts the focus to the performer and allows you to break free. Still, I wouldn't say that I specialize in the Romantic style because I consider myself a pretty good pianist in all styles."
Some of Brian's favorite Romantic composers are Chopin, Liszt, Tchaikovsky and Schumann, though with the Gulf Coast Symphony on April 2, Brian will step back to the cusp of the Romantic and Classical eras to play Mozart's Piano Concerto No. 20 in D minor. That will be Brian's second appearance with the GSC, having first played back when he was 16 years old.
Brian was graduated with a Bachelor's degree from Julliard and stayed there to work on a Masters. "I was choosing between Juilliard and Yale for my Masters. Matti was leaving his post at Juilliard at the time, but two other great teachers – Yoheved Kaplinsky and Joseph Kalichstein – agreed to take me on as their student. As a result, I chose to stay at Juilliard."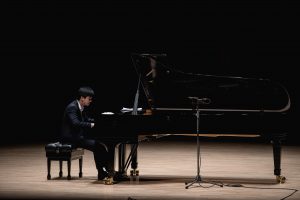 Brian says that today, he has wound down his playing in competitions. "I've started doing fewer competitions and more performing. It's made me a lot happier. I particularly love going to schools and do outreach performances for kids who've not heard classical music before. To me, that's much more fulfilling than the prizes I've won."
While he performs in concerts, Brian also is finishing up a Doctorate in Music Arts at the Peabody Institute, which is the conservatory at Johns Hopkins University. And he has a home life, being married, with a child.
"I'm actually at a pivotal point in my life. I'm literally at a decision point. I'll graduate with my Doctorate by the end of the year or early next year." That means he has some choices about his next steps. While he will continue performing whatever he decides, Brian could opt to become a professor of music on the university level.
"My future is open-ended. A lot of factors go into where I'll be in the next five to 10 years, but the thing that won't change is that I will continue using my knowledge and ability in music to benefit as many people as possible."
Hǎo jíle, Brian.
By Art Mooradian